The Vancouver Whitecaps will be without nine regulars on Wednesday when they travel to Cincinnati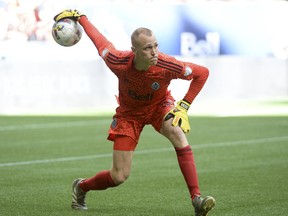 Reviews and recommendations are unbiased and products are independently selected. Postmedia may earn an affiliate commission from purchases made through links on this page.
Article content
The Vancouver Whitecaps, once again, have been blasted by back luck on the injury front. Eight players — maybe nine — won't travel to Ohio as the team looks to bounce back from a tough home loss.
Article content
Vanni Sartini is a man of science and fact.
So when Leo Owusu went down mere seconds from the end of training, the victim of an errant Flo Jungwirth boot to the head, there was no cursing the heavens — even if the midfielder was potentially the ninth player to join the Vancouver Whitecaps injured list this week.
"I'm an atheist. I'm not religious. I don't believe in curses," said the Caps coach. "Soccer is a contact sport. If we want intensity in training, there's always the risk that something can happen. We need to accept this risk, because if not, the training would be not intense, and we would have a team that is not intense on the field."
---
NEXT GAME
Wednesday
Vancouver Whitecaps vs. Cincinnati
5 p.m., TQL Stadium. TV: TSN, Radio: AM730
Article content
---
The Whitecaps saw the difference the absence of one player (Andres Cubas) could make in the second half of last week's 3-1 loss to Minnesota United. Now the Caps head to Cincinnati for a game on Wednesday potentially down another eight, as Owusu is being evaluated for a possible concussion.
Players not travelling to Cincinnati include: Cubas, wingbacks Marcus Godinho, Luis Martins and Cristian Gutierrez; midfielder Sebastian Berhalter, forward Deiber Caicedo, goalkeeper Thomas Hasal and centreback Ranko Veselinovic.
With three wingbacks out, Ryan Raposo and Cristian Dajome will step into the starting XI, with Javain Brown the only first team WB on the bench.
But, as Sartini said on the subject immediately following the game against Minny, they are team that finds solutions, not problems.
Article content
"We keep our heads," said goalkeeper Cody Cropper. "We know we have guys that can play multiple positions. We know that we have the ability to to mitigate that. Guys will fill the roles when asked, and they'll go out there and do the job. It's just one of those things injuries happen. They are part of the game and we have to be able to adapt."
And, as striker Lucas Cavallini pointed out, they've been here before. They went into the game against Sporting Kansas City in late May missing seven players and still came out with a win.
"We've been through times like this as well throughout the season," Cavallini said. "I'm not too worried. We still have a lot of quality players on the lineup. The team is hungry and you know, we need these points more than ever."
Article content
The game against SKC was also notable for another reason: the Whitecaps debut of Jungwirth as a No. 6, the position he grew up playing in Germany.
With Cubas out, he'll step into that role again. If Owusu can't go, and Berhalter still healing a foot fracture, midfield will have to be shuffled with Russell Teibert and possibly Caio Alexandre stepping in.
Cincinnati (7-5-7) comes into the game seventh in the Eastern Conference and unbeaten in five — though they have just one win in that span. But the gladsome Jungwirth was a picture of confidence.
Cubas out? No biggie. "Fortunately, I'm playing. I'm good, too — so it's not a problem," he said, smiling.
"We played before without (him)  … and obviously played really, really well. It's not just the one guy."
Article content
Cincy unbeaten in five and playing well? Another smile, and: "Yeah, not tomorrow. They won't play well. We're going to win. There's no guarantees in life, but I say we're going to win."
"They're very good," Jungwirth added. "Last week, they got a lot of points. Obviously the offence is very good. … But defensively they've shown also a lot of weakness. So I think we can exploit that if we stay in our shape, do our stuff and then set our attacks. That's why we (will) win."
The attack suffers with the loss of Caicedo to season-ending knee surgery, and although Sartini likes to joke he "invented" Raposo and Dajome as wingbacks, that's not their normal positions. The attacking depth is just as skinny as the wing, and the Caps have to also look four days past Cincy to a Sunday road showdown with the Portland Timbers.
Article content
But these Whitecaps see themselves as camo-wearing Jarheads. As the saying goes, they 'improvise, adapt and overcome.'
"We adapt our style to the players that we have in the field," said Cropper. "We're a group of professionals, right? A lot of us have been playing this game for five or six years, seven years, eight years … and I think that we're at a point now that we have a great core group of players that are professional.
"They're grown men, and we know that in order to win games, we have to adapt. We have to be able to adjust our style, adjust our techniques, our mentality how we press, how we don't press, XYZ. There are many things that we can do against Cincinnati, there are many things that we don't want to do. We just have to know what we need to execute."
twitter.com/TheRealJJAdams