Rail service will be maintained pending a vote on the deal.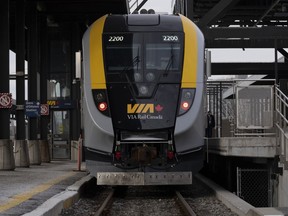 Article content
A walkout by 2,400 employees of Via Rail was avoided early Tuesday after an agreement in principle was reached between Unifor, the union representing the workers, and management.
Rail service will be maintained pending a vote by the rank and file on whether to accept the offer. However, Via Rail is still offering customers the option of changing their travel plans free of charge for any departure scheduled before July 31.
Unifor said details of the agreement would not be made public prior to the vote by membership. Via Rail said in a communiqué that once ratified, the agreement will be retroactive to January 2022 and will be in effect until Dec. 31, 2024.
The company's workers had voted 99 per cent in favour of strike action.