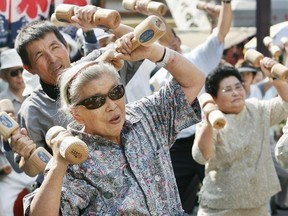 Article content
Japan faces a crisis because of its aging population, and we should pay attention in Canada.
Article content
The same thing could easily happen to us.
Article content
It's commonly referred to as Japan's "lost generation." Here's what happened.
Today, about 30% of Japan's population is elderly.
Within the next few decades, the number of people between the ages of 18-64 and the number of people 65 years of age and older will be almost the same.
No county can afford the health-care costs of almost half of its population being elderly — the demographic where health-care costs are the highest — and maintain decent health care.
For some context, 80% of a person's lifetime health-care costs typically occurs in the last six months of life.
That's why financing health care requires younger people to be working and paying taxes.
It's the reason many governments have incentivized their citizens to have children and have increased their immigration levels for working-age individuals and families.
Article content
So, what happened in Japan?
The short version is that a generation of its people were abandoned economically, who thus determined they could not feasibly or ethically support a family, lost hope and purpose, and did not have children.
The long version is that Japan's job market historically has several unique traits.
In particular, people tend to work at one company for life and are only promoted from within that company.
Most get that job immediately out of school.
Recommended video
Massive job fairs are held for new graduates, where talent is scouted for recruitment immediately after graduation.
But if someone does not find a job immediately after graduating, within a year or so their value as an employee plummets dramatically, and they essentially become unemployable.
Article content
In other words, an individual's jobs prospects are tied to the labour market at the point in time when they graduate.
For example, if there are 20,000 available jobs and 30,000 people graduate that year, 10,000 people become almost unemployable, in many cases for life.
For the three decades leading up to 1991, Japan, with rapidly expanding export markers, had an economic boom, with massive GDP growth.
The economic system at the time saw the government prop up large corporations which would invest in each other, creating highly cooperative corporate cartels known as "keiretsu."
Getting a job at one of these massive companies essentially guaranteed lifetime employment and a lucrative career.
But from 1990 to 1991, due to multiple factors, a significant economic correction occurred and Japan's economic bubble burst.
Article content
During its economic boom, many Japanese companies were rapidly expanding, and the labour market was able to respond to the need for workers.
But when the bubble burst, many companies froze hiring for almost a decade,  prioritizing the retention of existing workers and promoting from within.
This caused a massive downturn in the labour market.
When Japanese firms started hiring again in the 2000s, those who graduated in the 1990s were largely overlooked, as companies wanted young graduates instead.
For those who finished school in the 1990s, chances were they were virtually unemployable and hiring rates never returned to pre-recession levels.
Those individuals would live through the equivalent of an employment ice age, which became known as Japan's lost generation.
Article content
An estimated 15% of the entire population, critical to the growth of the economy by buying houses, cars, consumer goods and starting families which would provide future workers for the economy, essentially disappeared in economic terms.
The issue became so top of mind that some even believed the conspiracy theory that the government of then prime minister Shinzo Abe, who was assassinated in July, was using cartoons and video games as propaganda tools to get more people to start families and reproduce.
While some of the economic pressures are different in Canada, many of the fundamental issues are the same.
We have an aging population and many young people today are not interested in starting families, saying it is too expensive, as well as being worried about what type of world their children would be growing up in.
Our governments are not taking this issue seriously. Politicians are focused on the next year and the next election, not the next decade.
If people think we have serious health-care problems now — and we do — just wait until our population ages along the same lines as Japan's.
— Vezina is the CEO of Prepared Canada Corp. and teaches disaster and emergency management at York University. He can be reached at [email protected]