"Raise it with family and friends. Have the hard discussions. This is difficult work, but necessary and rewarding."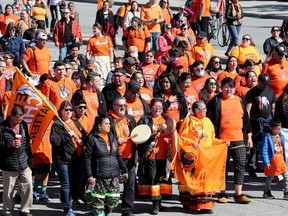 Article content
A vast crowd clad in orange marched from Parliament Hill to LeBreton Flats Park on Friday for songs, drum dancing and painful memories from residential school survivors marking the second National Day of Truth and Reconciliation.
Article content
Remembering the Children, a one-hour commemoration organized by Aboriginal Peoples Television Network and the National Centre for Truth and Reconciliation, was attended by dignitaries including Governor General Mary Simon, the first Indigenous person to hold that office, and Prime Minister Justin Trudeau.
Article content
The tragic legacy of Canada's residential school system "is what happens when policies mix with prejudice," Simon said, pointing to the shoes on the stage as symbols of children who never came home and the names of the dead on a large red banner.
Growing up in Nunavik, Simon saw her friends leaving for residential school while Simon, whose mother was Inuk and father was white, was able to stay at home, but she also saw the "void" they left.
Article content
"It was devastating," Simon said. "It still is. Too many Indigenous communities suffer inter-generational trauma. To them, I say, 'I see your pain.I believe in your stories. And I believe in reconciliation as part of the healing journey.'"
Despite facing many barriers, Indigenous peoples constantly work to improve their communities, create opportunity and "strengthen body, mind and spirit," Simon said.
"There is great joy in Indigenous languages, culture and traditions."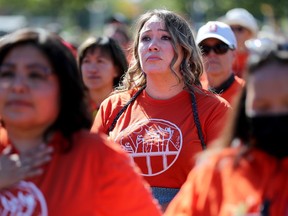 Simon called on "all of us to talk about reconciliation from coast to coast to coast. Raise it with family and friends. Have the hard discussions. This is difficult work, but necessary and rewarding."
Earlier Friday, a crowd estimated at 500 marched along the Sir John A. Macdonald Parkway, calling on the National Capital Commission to change the road's name, Elder Albert Dumont said.
Article content
The parkway is named for Canada's first prime minister, who had a well-documented role in the residential school system
Marchers covered parkway signs with covers reading "Every Child Matters" on one side and "Kichi Zibi Parkway" — Kichi Zibi translates to "great river" — on the other.
"Like I said this morning, while we walked along: Today, we're closing the parkway for two hours, or thereabouts. Next year who knows?" Dumont said.
"All we know is that it's something the momentum is going to pick up. We're determined."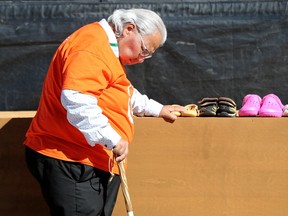 On Sparks Street, the first plaque in the national capital related to residential schools was unveiled even though Ottawa had been the "command and control centre of residential schools," said Cindy Blackstock, executive director of the First Nations Child and Family Caring Society of Canada
Article content
The plaque honours Dr. Peter Henderson Bryce, chief medical officer of the federal departments of the Interior and Indian Affairs, whose 1907 report exposed the terrible conditions in residential schools. He later published the report as "The Story of a National Crime" in 1922 through a Sparks Street publishing company.
"The lesson that we need to learn from this is that people back then did know about it, people back then had solutions to save the children's lives, people back then were outraged, but, when the headlines died, so did the children," Blackstock said.
"And that's what we're seeing today with murdered and missing Indigenous women, with the lack of equality and proper public health services on reserve and more. That is why Dr. Bryce's story is so important."
Article content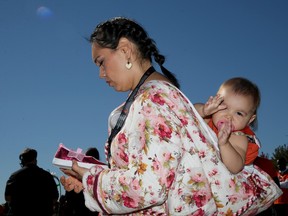 With sunrise ceremonies, Indigenous songs and moments of reflection, communities across Ontario marked the National Day of Truth and Reconciliation, the federal statutory holiday that had been established last year.
In downtown Toronto, a gathering at the city's Nathan Phillips Square began with a sunrise ceremony.
Kevin Myran, a drummer at the event whose grandmother was a residential school survivor, said it was important to reflect on the losses brought about by the residential school system on more than one day.
"It is something (that) needs to be spoken about every day," Myran said. "It is something that needs to be spoken about at schools. This is something that needs to be in history books."
Outside Ontario's legislature, Premier Doug Ford said the day was a time for Ontarians to reflect on the dark legacy of residential schools while also honouring survivors of the system and those who did not make it home.
Article content
"I encourage everyone to learn about and reflect on the history of residential schools, the harmful impact they've had on Indigenous families and entire communities and to commemorate all those who've been affected," Ford said.
"It's a long road ahead, but we will walk together in the spirit of truth and reconciliation."
In Niagara Falls, Prime Minister Justin Trudeau was among those in attendance for a sunrise ceremony. "Reconciliation is the responsibility of every single Canadian. And we know it will take time," Trudeau told the crowd there.
"It's important to listen, to learn and to move forward, to not repeat the mistakes of the past. Scars don't heal overnight and trust can take a long time to rebuild but we will be there together, every step of the way."
With files from The Canadian Press