'Enbridge will continue to be an iconic Canadian company, and increasingly so an iconic North American company. I think that's in everybody's best interest'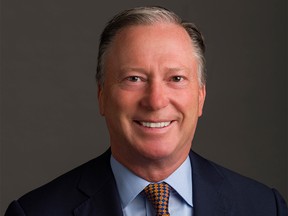 Article content
The incoming CEO of Enbridge sees a bright future for LNG, a growing role for renewables and a promising opportunity for carbon capture developments as the energy transition gains speed.
Article content
And Greg Ebel, who will take over from longtime CEO Al Monaco in January, sees Calgary remaining the company's headquarters as it continues to expand, even while its footprint grows on both sides of the Canada-U.S. border and he operates mainly out of Enbridge's offices in Houston.
Article content
The Ottawa-born energy executive, who once worked for former deputy prime minister Don Mazankowski in the Mulroney government, indicated the pipeline giant is rooted in Canada.
"The headquarters is in Calgary for all the right reasons and that's where it will be. The fact that I'm based in Houston, I wouldn't read anything into that at all," Ebel said in an interview Wednesday.
"I've lived everywhere from northern Ontario to Chatham, to Winnipeg to Vancouver, to Charlotte to Washington, and I think that's illustrative of the way we want Enbridge to be seen.
Article content
"Enbridge is a North American energy infrastructure leader . . . and I think the CEO has to be expected to be virtually everywhere."
Ebel, 58, is currently Enbridge's chair (until he takes over as the chief executive next year), as well as the chair of Mosaic Co., one of the world's top fertilizer producers.
He was previously CEO of Spectra Energy, a Houston-based company that Enbridge acquired in 2017 for $37 billion. The strategic step merged Enbridge's massive oil pipeline system with Spectra's gas pipeline network to create a much larger North American energy entity.
"He brings a lot to the table from a continental perceptive," said Chris Bloomer, former head of the Canadian Energy Pipeline Association.
"This industry is dependent on the U.S. market and that's not going to change anytime soon."
Article content
Varcoe: 'You have to be relentless': Exits of two outspoken CEOs create hole in energy debate

Enbridge CEO Al Monaco to retire after 27 years at pipeline company

LNG Canada, country's $40-billion 'second chance' at becoming a global LNG leader, takes shape
Ebel uses the metaphor of a river to explain how its vast business operates geographically, with the "riverhead" of the liquids pipeline system starting in Western Canada and flowing to tributaries across North America.
Its gas business riverhead, historically, has been in Houston and flows to the northeast; the company's distribution business is focused in Ontario.
"Enbridge will continue to be an iconic Canadian company, and increasingly so an iconic North American company. I think that's in everybody's best interest," he said.
Article content
"There are natural reasons where our various businesses are based out of, and they go from those riverheads to the river mouth where energy flows. So that's a good reason for Calgary to be the headquarters of Enbridge and the other businesses to largely be run out of those other locations."
Ebel has a long history working at the intersection of Canadian politics and energy.
Before working for the deputy prime minister, Ebel was employed at Decima Research. He recalls doing public research work on Petro-Canada and the 1988 Olympics — the company famously sponsored the torch relay — before he worked for Mazankowski and John McDermid, former federal minister of privatization.
"I was the legislative assistant that actually pushed through the privatization of Petro-Canada and basically the end of the National Energy Program," he said.
Article content
"That's a darn good place to start from an energy perspective in North America, and definitely from Canada."
After working at the World Bank, Westcoast Energy and Duke Energy, Ebel served as CEO of Spectra from 2009 until the merger with Enbridge.
As chair, he's been at the board table as the company has expanded its renewable business, completed the Line 3 replacement project and grown its presence in the liquefied natural gas industry. It agreed this summer to invest US$1.5 billion to acquire a 30 per cent stake in the Woodfibre LNG development near Squamish, B.C.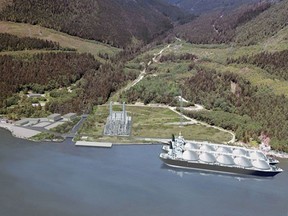 While Enbridge is growing its conventional energy infrastructure business, it's expanding its presence in renewables. It is also examining projects involving carbon capture, utilization and storage (CCUS) in both countries, including a proposed CO2 sequestration hub west of Edmonton.
Article content
The Canadian government has introduced a new CCUS investment tax credit, although it has been surpassed recently in the U.S. by incentives contained in the new Inflation Reduction Act.
"The bigger issue is the overall permitting and I would say that for all energy infrastructure. I think we're getting closer and closer on economic incentives making it viable. The issue is one of, can you get it permitted?" he said.
"What I don't want to see happen, and I think it's a good example for us to consider from a Canadian perspective, is thinking about what happened on the LNG front."
Less than a decade ago there were no operating LNG export facilities in Canada or the United States.
Today, the U.S. has the most LNG export capacity in the world; two projects are now being built off Canada's West Coast.
Article content
"There is a big opportunity to invest in numerous forms of energy infrastructure to support demand, domestically and abroad as well," said analyst Matthew Weekes with iA Capital Markets.
"LNG will be a key one of those areas."
On that front, Ebel said the investment in the Woodfibre LNG project allowed Enbridge to acquire a relatively large stake, pointing out the venture is backed by long-term contracts.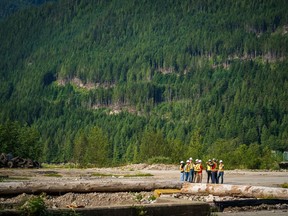 Enbridge's chair also believes there's a need for LNG off Canada's east coast as it would help Europe pursue energy security over the longer term.
He doesn't think the energy transition can move forward globally without natural gas.
"I'd love to see us continue to be involved in a big way on the LNG side where it makes sense, and we can get a fair return for our investments," he added.
As for the company's future direction, don't expect any sharp U-turns from the incoming CEO.
"l would not expect any dramatic changes," said Ebel.
"Anything that may change would be far more evolutionary than it would be revolutionary."
Chris Varcoe is a Calgary Herald columnist.