Rob Vanstone remembers where he was — in a Grade 3 classroom at Massey School — when Paul Henderson scored for Canada on Sept. 28, 1972.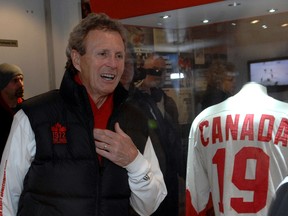 Article content
Fifty years later, it pains me to make this confession: I never saw the Paul Henderson goal.
Article content
Not live, anyway.
Article content
That puts me in the distinct minority of Canadians who had the good fortune of being alive on Sept. 28, 1972, when Henderson scored late in the third period to give the homeland a victory over Russia in the Summit Series.
At the time, I was in Mrs. Jackson's Grade 3 class at Massey School, listening to CBC Radio's broadcast of the series' eighth and deciding game over the crackly public-address system.
Across Canada, it was commonplace for students to flock to school gymnasiums and watch the actual telecast. But, for whatever reason, it was different at Massey School.
Our reaction, though, was typical. We went bonkers when Henderson shovelled a rebound past Soviet Union goaltender Vladislav Tretiak with 34 seconds remaining at the Luzhniki Ice Palace in Moscow.
Article content
Henderson had also scored the winning goal in Games 6 and 7, so I remember almost taking it for granted that he would come through once more.
What I don't remember is this: Why didn't I simply stay home from school that day and watch the game on TV?
After the series moved to Russia, following four generally unexceptional games that were played on Canadian soil, I came up with an earache. Ow.
The "earache" nicely coincided with Game 5 of the Canada-Russia series.
By game's end, I legitimately had a headache. Canada carried a 4-1 lead into the third period, only to lose 5-4.
Canada was then in the unenviable position of having to post three consecutive victories in Moscow in order to claim the series.
I can only presume that pessimism prompted me to attend school two days later, when Game 6 was played.
Article content
Canada responded to the Game 5 meltdown with back-to-back victories that tied the series. Each team had three wins, three losses and a tie heading into Game 8.
So, with so much at stake, why didn't I feign another earache? Or an upset stomach? Or something?
Did I presume that, given the magnitude of the game, it would be shown on TV at school?
I remember being paraded to the gym on numerous other occasions to watch The Friendly Giant and Sesame Street. Surely, then, there would be an assembly to mark Game 8 of Canada versus Russia.
Nope. We sat at our desks.
And it wasn't much fun, for the most part, as Russia assembled a 5-3 lead.
Then Phil Esposito — playing the best hockey of anyone who has worn a Canadian uniform — scored to make it 5-4.
Article content
Yvan Cournoyer soon tied the game. Then it was a matter of waiting … waiting … waiting … waiting for Henderson to score.
When it happened, it was simultaneously exciting and unsurprising.
I doubt that any work was done for the remainder of that school day. I think I spent more time staring at the loud-speaker, which was situated in the top right-corner of the classroom, than the blackboard.
That evening, Game 8 was replayed on television.
I finally saw THE goal.
It looked better on the public-address system. I had expected a thing of beauty, such as Henderson's picturesque Game 7 winner, but it was basically the type of goal that a fourth-line grinder could have scored, given the opportunity.
Only when the game was replayed did I finally hear Foster Hewitt utter those famous words: "Henderson has scored for Canada."
Article content
How often have I heard that description over the past 50 years? How many times have I seen that goal?
Hundreds. Thousands, maybe.
Regardless, I still get goose bumps. It never gets old, unlike this scribbler.
All these years later, it is hard to believe that a sporting event could mean so much to so many people.
For the entire month of September, back in 1972, Canada versus Russia — Us against Them — was the only story that seemed to matter in our home and native land.
It was my introduction to international hockey, and the first time I remember bursting with pride at being a Canadian.
For those of us who experienced that mind-bender of a month, it still seems like yesterday.
It is still hard to believe that "yesterday" was 50 years ago — and that I didn't manufacture, say, the '72 flu, on the morning of the climactic contest.
Article content
In fact, it sickens me to think of how honest I was.
The sports world is ever-changing, as are the times. Supplement your steady diet of sports coverage by subscribing to the Regina Leader-Post's 306 Sports Fix newsletter. Each week, sports editor Rob Vanstone will provide additional commentary on the Roughriders, Pats and other teams/sports of interest, along with a peek behind the curtain. Click here to subscribe.
Players shed new light on memorable Canada-Soviet Summit Series in '1972' book

MP Ben Lobb lobbies to induct Paul Henderson into Hockey Hall of Fame