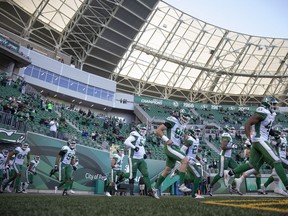 Article content
By game's end, the drought — 2,908 — may have rivalled the crowd count.
Article content
Only the most inveterate of devotees stuck around Mosaic Stadium for the final few obligatory minutes on Tuesday, when the Winnipeg Blue Bombers registered a 25-16 CFL pre-season victory over the Saskatchewan Roughriders.
The result, as meaningless as it will prove to be over time, left Saskatchewan with just one tie and 10 losses to show for its past 11 exhibition games.
Not since June 14, 2014 — nearly 3,000 days ago — has the Green and White posted a pre-season win. That victory, for the record, was a 21-17 conquest of Ottawa in the Redblacks' first game of any description.
So, yeah, it has been a while.
And it won't really matter beyond Friday, when the Roughriders are to conclude their pre-season schedule by visiting the B.C. Lions.
So what was learned from Tuesday's game, such as it was?
The highlight, at least in this appraisal, was the burst demonstrated by running backs Jamal Morrow and, especially, Frankie Hickson.
Hickson, twice a 1,000-yard rusher at Liberty University, carried the ball six times for 47 yards on Tuesday. Morrow had three rushes for 23 yards, including a gain of 16.
In the cases of Hickson and Morrow, there was an evident ability to accelerate upon receipt of the football, whereas the Roughriders' running plays in 2021 had typically been ponderous from the outset.
With the starting tailback's job up for grabs, the opening-night showings of the two aforementioned tailbacks provide cause for optimism.
Article content
As for the No. 2 quarterbacking job, a conclusive answer remains elusive.
Mason Fine and Jake Dolegala each threw a touchdown pass and an interception. Fine appears to have a slight edge over Dolegala in the competition to be next in line behind Cody Fajardo, although Troy Williams had his moments while going 5-for-7 for 41 yards and showing some elusiveness.
What we don't know is this: Can any of them throw deep with any proficiency or purpose?
The Roughriders' longest pass of the day, unfurled by Williams, travelled 32 yards beyond the line of scrimmage and fell harmlessly incomplete.
Dolegala and Fine each maxed out at 20 yards downfield. Fine's longest throw was a two-yard TD toss to Jester Weah, who caught the ball 18 yards deep in the end zone.
Overall, though, the passing game was ultra-conservative (read: boring) with Fine in the game.
His average throw covered a mere 4.6 yards. Only five of his 18 passes went 10 yards or more. Ten of his passes travelled no further than five yards beyond the line of scrimmage.
The 6-foot-7 Dolegala averaged a comparatively robust 10.8 yards per throw, but we are still waiting to see the rocket-armed skyscraper launch a bomb. Shouldn't the Riders' coaches be curious as well? Why not take at least one shot during the pre-season?
Williams averaged 8.6 yards per pass, whereas the Roughriders as a whole were at 7.2. Yawn.
Bombers quarterbacks Dakota Prukop and Dru Brown were dual threats, as evidenced by their combined 109 yards on 10 rushes.
Article content
They were also effective — and, unlike the home side, aggressive — through the air.
Brown's average distance per throw: 12.1 yards. Nine of his 14 passes travelled at least 10 yards.
Eight of Prukop's 12 passes went at least 10 yards, typically with considerable distance to spare. He averaged an eye-popping 20 yards per throw, fattening the Bombers' figure to 15.8.
At least one team tried to entertain what fans there were. Although the Roughriders were never ahead over the course of 60 minutes, they often played as though they were protecting a commanding lead.
Some electrification was provided by rookie Johnathon Johnson. Wearing Joey Walters' old No. 17, Johnson took off for 52 yards on his lone punt return, which set up Dolegala's 18-yard TD pass to Diuely Aristilde Jr.
Another special-teams standout was Globalite Kaare Vedvik. Deployed only twice, his soaring punts travelled 56 and 51 yards.
There was a disinclination to travel, however, on the part of the general public.
The attendance: Bruce, Bill, Janet, Eric, Bob, Carter, Lila …
The actual attendance: As of this writing, it remained a mystery.
On the official statistical summary, which was disseminated via email mere minutes after the clock struck 0:00, the attendance was listed as (wait for it) zero.
As in: The number of Roughriders pre-season victories since mid-June of 2014.
Fortunately for the Green and White, exhibition games — like the people who are presumably entrusted with tabulating and circulating the attendance total — do not count.
The sports world is ever-changing, as are the times. Supplement your steady diet of sports coverage by subscribing to the Regina Leader-Post's 306 Sports Fix newsletter. Each week, sports editor Rob Vanstone will provide additional commentary on the Roughriders, Pats and other teams/sports of interest, along with a peek behind the curtain. Click here to subscribe.