Garrett Marino's decision not to speak publicly is another misstep during a forgettable week for himself and Saskatchewan Roughriders.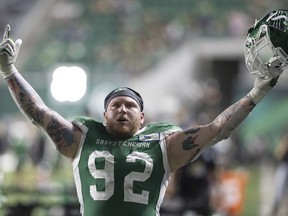 Article content
Evidently, Garrett Marino only keeps his mouth shut when he should be talking.
Article content
The Saskatchewan Roughriders' controversial defensive tackle — who has been suspended for four games by the CFL for a reckless and injurious hit, an oblivious and prolonged celebration, and what he now acknowledges was "an insensitive and culturally stereotypical remark" — made it clear Wednesday that he will not be commenting "again" on the maelstrom he has manufactured.
Again?! He barely commented in the first place.
Any words that are attributed to Marino are contained in a carefully crafted, canned statement that was issued on his behalf by the team.
The Roughriders released the statement but not the player. In sticking by Marino so intractably, they are subjecting the reputation of a proud, community-owned, widely beloved organization to further risk and ridicule.
Wise individuals within the Roughriders' domain had advised Marino to speak publicly, face the media, answer all questions and, at long last, apply a punctuation mark to a story that has devoured the better part of a wearisome week.
And what option did he choose? This …
"I have received my discipline from the CFL regarding the game we played on Friday, July 8th, 2022," began a prepared statement that was attributed to Marino, whose low hit has sidelined quarterback Jeremiah Masoli for 10 to 12 weeks. "I will not be appealing the suspensions given to me by the CFL and I have spoken to the Players' Association who will not be appealing on my behalf.
"I want to apologize for my actions that day, as I understand that they have no place in the game of football. I also apologize to Jeremiah Masoli of the Ottawa Redblacks, as I did not intend to injure him. I have tried over the past few days to connect with him directly and will continue to do so.
Article content
"Regarding the comments I made during the game, I regret that I said them, as I now understand their consequences. This was not my intent when speaking on the field, nor is it ever my intent in my day-to-day life.
"I know I play the game with an edge, and during the game I made an insensitive and culturally stereotypical remark. I now understand this was hurtful to my peers and I hope I can be forgiven for that misunderstanding.
"I take pride in being a good teammate and a valued member of the Saskatchewan Roughriders Football Club. I did not intend for my comments or actions to be hurtful, and I take solace in my teammates, knowing that I stand with all of them, regardless of race, ethnicity, or sexual orientation.
"I will not be commenting on this matter again but will be working to better myself as I serve this discipline and prepare to rejoin my teammates on the field."
Reminder: One tenet of the Roughriders' code of conduct is "openness and accountability."
Without either openness or accountability being fully embraced, the Roughriders' organization has been dragged through the mud — deservedly, to some extent — at a time when the team boasts a 4-1 record and is preparing to face the Toronto Argonauts on Saturday in Wolfville, N.S.
Considering the extent to which the organization's reputation has been tarnished, the onus should have been on president-CEO Craig Reynolds to speak up for and protect the brand.
The Roughriders, as a whole, took far too long to visibly apologize to Masoli. A statement (surprise, surprise) was released Wednesday, when head coach Craig Dickenson also met the media and was typically forthcoming and, yes, accountable. Somebody had to do it.
Article content
Reynolds, Dickenson and general manager and vice-president of football operations Jeremy O'Day all reached out to the Redblacks' brass during the week, asking that best wishes be conveyed to Masoli.
But where was the prompt public apology?
Marino-gate blew up even before Friday's game had concluded. Even so, there was nary a word on the matter to be found on the team's Twitter account, which has nearly 230,000 followers.
The Roughriders are typically more of a leader than a follower, but they fumbled the ball at various stages, as the team's image took a beating from coast to coast to coast.
Compare the slow, unsatisfactory response to the Marino mess with the proactive and urgent manner in which the Roughriders got in front of a bad-news story late last season, when defensive back/linebacker Loucheiz Purifoy was involved in a disturbance at a Regina restaurant.
Out of the blue, the team scheduled a morning media availability at Mosaic Stadium. Dickenson and Purifoy sat before reporters and answered every question. This was done so effectively, so decisively, that the matter was a virtual non-story by day's end.
The entire time, Purifoy looked like he would rather be anywhere else in the world. Who could blame him? Yet, he dealt with the issue head-on, and it wasn't an issue much longer.
Marino opted for a different approach, but it didn't do anyone any good. The Roughriders flew to Nova Scotia on Wednesday afternoon without the Marino matter being entirely contained.
Article content
At what should be a festive time for the Roughriders and the CFL, team and league officials can expect to be asked about a firestorm that has been fuelled, in part, by the player's reticence.
Nonetheless, the organization is standing behind Marino.
Mind you, that is much less dangerous than standing in front of him. Just ask Jeremiah Masoli.
The news seems to be flying at us faster all the time. From COVID-19 updates to politics and crime and everything in between, it can be hard to keep up. With that in mind, the Regina Leader-Post has created an Afternoon Headlines newsletter that can be delivered daily to your inbox to help make sure you are up to date with the most vital news of the day. Click here to subscribe.