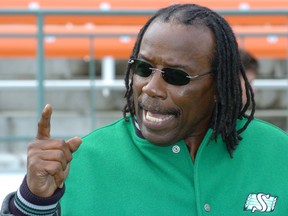 Article content
Robservations …
Article content
• This cherished space has been used many times, many ways, to kindly point out notable omissions from the Canadian Football Hall of Fame. But there are numerous examples of the selection committee getting it absolutely right. Witness Tuesday's announcement that former Saskatchewan Roughriders general manager Roy Shivers is to be formally enshrined as a builder on Sept. 16.
• The first Black GM in professional football history, Shivers played a crucial role in the resuscitation of the Roughriders after their three-win, defence-optional season of 1999. Early in Shivers' 6 1/2-year tenure with the Green and White, he established that Saskatchewan could, in fact, be a preferred destination — as evidenced by the transformative free-agent signings of quarterback Henry Burris, defensive tackle Demetrious Maxie and defensive halfback Eddie Davis. Shivers joins Burris and Davis in the Hall of Fame.
• Although the Roughriders never reached the championship game under Shivers, he set the table for future prosperity by consummating an April 12, 2006 trade with the Hamilton Tiger-Cats that ultimately brought quarterbacks Kerry Joseph and Darian Durant to Saskatchewan. The following year, Joseph was named the CFL's most outstanding player, just three days before quarterbacking the Roughriders to a Grey Cup victory. Durant subsequently led the team to three championship games, reaching his apex on Nov. 24, 2013 when he piloted Saskatchewan to a 45-23 home-field Grey Cup victory over Hamilton.
Article content
• So, all things considered, Shivers belongs in the Roughriders' Plaza of Honour. Ditto for kicker Paul McCallum, another 2022 CFHOF enshrinee.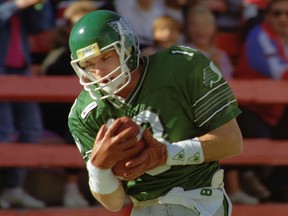 NOW … THE NITPICKING!
• The Hall of Fame's selection committee continues to overlook an assortment of other eminently worthy candidates, such as Roughriders greats Jeff Fairholm, Joey Walters, Kent Austin and Wayne Shaw.
• Fairholm was the rare Canadian receiver who, in an instant, could destroy a defence. One step, one sliver, and he was gone. His statistics also compare quite nicely to those of former Winnipeg Blue Bombers slotback Joe Poplawski, who entered the Hall in 1998. Also, Fairholm's career receiving-yardage total (7,465) exceeds that of American-born David Williams (7,197), who was called to the Hall in 2019. (Fairholm, incidentally, will be the special guest on next week's Rider Rumblings podcast, which will go online Tuesday.)
• Williams' highest single-season receiving-yardage totals, amassed on behalf of the B.C. Lions, were 1,468 (in 18 games in 1988) and 1,446 (17 games, 1989). Walters, by contrast, exploded for a Roughriders-record 1,715 yards in 1981 and added 1,692 the following season. That was back in the days when each CFL team played only 16 regular-season games. No. 17 is one of the elite receivers in the history of the CFL's flagship franchise and, as such, is long overdue for induction.
• See also: Richard Kent Austin, whose sensational showing in the 1989 Grey Cup game ignited a period of passing prowess that we aren't likely to see again. For starters, Austin passed for 474 yards and three touchdowns to help the Roughriders defeat Hamilton 43-40 on Nov. 26, 1989. Over the next four seasons, Austin threw for 20,720 yards and 125 touchdowns. For good measure, he coached Saskatchewan to its next championship, in 2007.
Article content
• Shaw excelled in Saskatchewan's first Grey Cup victory — a 29-14 conquest of the Ottawa Rough Riders on Nov. 26, 1966. The Saskatchewan-born linebacker was an all-star in six of his 12 CFL seasons.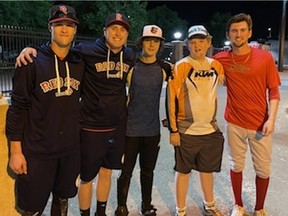 RED SOX ROOTERS
• The Regina Red Sox won over some young fans last weekend while playing against the host Medicine Hat Mavericks on back-to-back days. Ryan Dahlman of the Gas City passed along his compliments after witnessing the exemplary manner in which his 13-year-old twins, Tyson and Luke, were treated by pitching coach Ruddy Estrella and the Red Sox players.
• Here's the good word from Ryan: "The players were so good and Ruddy made sure that every player signed the two foul balls the kids collected. The boys were 'enthusiastic' fans of the Sox on the weekend just because the team was so nice and polite. I was really impressed and I told Ruddy just that. They're easily the nicest team in the league, and I have seen many this year. Now the boys want Red Sox merch!" The Red Sox are back in Medicine Hat on July 5. "Hoping the two Red Sox hats, jackets and shirts are here by then," Ryan adds, referencing the early birthday presents his fine sons have requested.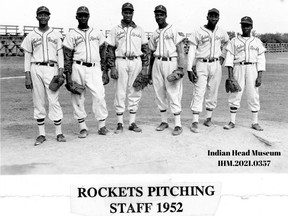 REMEMBERING THE ROCKETS
• This weekend, the Indian Head Museum is celebrating the rich history of the Indian Head Rockets baseball team. The agenda will include, of course, a Friday evening baseball game at Indian Head's Jimmy Robison Field. The grandfather of WHL commissioner Ron Robison was Indian Head's mayor during the Rockets' heyday. Various events are slated for Saturday, including a parade (to begin on Grand Avenue at 10:30 a.m.), activities oriented toward children and families (1 p.m. to 4 p.m., Dixon Park) and a street dance (commencing at 6 p.m.). The museum's exhibit is to open to the public Saturday at 1 p.m. On Sunday, a car show will be held on Grand Avenue (11 a.m. to 4 p.m.). As well, the museum will be open for three hours, starting at 1 p.m.
Article content
• Much of the discussion will surround what was billed as "Canada's greatest baseball tournament," which was held in Indian Head on an annual basis from 1947 to 1955. The well-attended tournament typically featured some of the finest ballplayers in Western Canada. In the early 1950s, the Rockets fielded an all-Black team that also included some members of a Negro League squad, the Jacksonville Eagles. Included on the Rockets were Tom Alston (who went on to become the St. Louis Cardinals' first Black player) and Pumpsie Green (who broke the colour barrier with the Boston Red Sox).
TSN'DLESS INTERVIEWS
• Free, unsolicited advice to producers of TSN's CFL telecasts: Ashcan the in-game interviews!
• TSN is the CFL's sole television rights-holder. However, you wouldn't have known that from watching a late edition of SportsCentre that began fewer than 17 hours before Week 3 kicked off in the CFL. There wasn't a single mention of professional three-down football — for the entire program! We did get MLS highlights (if anything from MLS can actually be labelled a highlight). We did see a long item pertaining to the Washington Commanders and their repulsive owner, Dan Snyder. And, yes, the top 10 moments in the career of Rob Gronkowski were counted down, for 3 1/2 minutes. The CFL? Not even a millisecond.
ROLL CREDITS …
• Nice people who deserve a plug: Dan Clark, Kelly Marce, Chloe McEachern, Matthew Exner, Britton Gray, Glenn Reid, Adam Geiger, Tim Walker, Logan Bandy, Dieuly Aristilde Jr., Ryan Dahlman and, with profuse thanks for the nearly 50 years he spent at the Regina Leader-Post, our friend Gord Craig.
The sports world is ever-changing, as are the times. Supplement your steady diet of sports coverage by subscribing to the Regina Leader-Post's 306 Sports Fix newsletter. Each week, sports editor Rob Vanstone will provide additional commentary on the Roughriders, Pats and other teams/sports of interest, along with a peek behind the curtain. Click here to subscribe.