Although Saskatchewan's CFL team lost another game on Friday, at least the participants in Roughriders bingo had a chance of winning.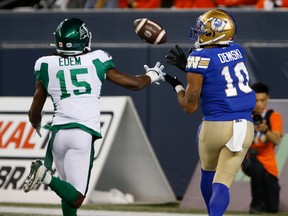 Article content
As a sequel to the Banjo Bowl, we present the inaugural (cue fanfare) Bingo Bowl!
Article content
Please follow along as we apply multiple dabbers to the Saskatchewan Roughriders' bingo card after Friday's 31-13 CFL loss to the host Winnipeg Blue Bombers — a result that left the regressing green gridders with a 6-9 record.
Article content
Under the B: Blue Bombers win.
Under the I: IG Field is a house of horrors for the Roughriders. (Most Certainly Not Under the I: Interception.)
Under the N: Nic Demski lacerates the Saskatchewan defence.
Under the G: Gee, it would be novel to see the Roughriders register a sack, an interception, a touchdown pass, a victory …
Under the O: Ohhhh-for-seven in Winnipeg, dating back to 2018.
You are now cordially invited to immerse yourself in a dabbing frenzy!!!
Loss to the Blue Bombers: CHECK.
Saskatchewan has lost its last seven games against Winnipeg, which will win its third consecutive Grey Cup on Nov. 20 at Mosaic Stadium. Is it too early to shoot off the confetti? Can this be done with a bingo blower?
Article content
Lopsided loss in Winnipeg: CHECK.
Saskatchewan has lost each of its past six games at IG Field, by a combined score of — please read this while sitting down — 205-69.
A loss, period: CHECK.
After a 4-1 start, the Roughriders are 2-8. That is the worst record in the nine-team league since mid-July. Talk of a dynasty is premature.
Zero touchdown passes in Winnipeg: CHECK.
The Roughriders have not thrown a regular-season TD pass at IG Field since Sept. 9, 2017, when Kevin Glenn hit Naaman Roosevelt for a 75-yarder at 7:24 of the second quarter. Saskatchewan has subsequently failed to produce an aerial major in its last 367 minutes 24 seconds of reliably substandard non-playoff competition in the Manitoba capital. (To be fair, Cody Fajardo did find Duke Williams for a 67-yard score in the 2021 West Division final, held at IG Field. So there's that.)
Article content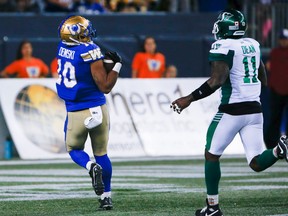 Failure to cover Nic Demski: CHECK.
The Blue Bombers slotback, an erstwhile Roughrider, has registered five TD receptions in three games against the Green and White this season/month. Over the course of three September showdowns with Saskatchewan, Demski caught 17 passes for 244 yards. As a courtesy to the Saskatchewan defence, we hasten to point out that Demski wears No. 10 and that he is resplendent in blue. Not that it will do any good at this point. The Roughriders will not face Winnipeg — or, at this rate, anyone — in the playoffs. Thank goodness for Connor Bedard and the Regina Pats.
Failure to cover the deep pass: CHECK.
Blue Bombers quarterback Zach Collaros went over the top Friday for payoff pitches of 64 yards (to Dalton Schoen), 42 yards (to Demski), 36 yards (Rasheed Bailey) and 25 yards (Demski, again). Thanks to Schoen's touchdown, the Roughriders have now surrendered a league-high eight aerial majors of 60-plus yards.
Article content
Failure to cover the point spread: CHECK.
Winnipeg's margin of victory in its last five regular-season home games against Saskatchewan: 31, 25, 24, 34, 18.
Missed tackle(s): CHECK.
A whiff by Jeremy Clark enabled Schoen to take the final few steps into the end zone.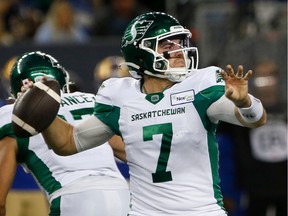 Missed opportunities: CHECK. CHECK. CHECK. CHECK. Et cetera.
Where do we start?
(1) For the fourth game in succession, Saskatchewan failed to move the chains when only one yard (or less) was required. The Roughriders expertly gassed two third-and-ones on Friday night.
(2) On second-and-four from Winnipeg's six-yard line, Roughriders receiver Kian Schaffer-Baker was open in the left flat after flaring out of the backfield. It was an easy first down, and most likely a touchdown, just waiting to happen. Only one problem: Fajardo's pass was low. Saskatchewan settled for a 14-yard Brett Lauther field goal that reduced Winnipeg's lead to 17-13. Two plays and 70 virtually uncontested yards later, the Blue Bombers were in the end zone (see again: Nic Demski).
Article content
(3) On second-and-five, with the end zone only 17 yards away, Fajardo dropped the snap. Winnipeg recovered.
Slow-developing running play that doesn't go anywhere: CHECK.
On the second failed third-and-one, a handoff to the plodding Kienan LaFrance was easily diagnosed by Ricky Walker. The Bombers defensive tackle made only one stop all night, but it was a big one. LaFrance was felled for a loss of one. Turnover on downs. This is a recording.
Linebacker burned for a deep touchdown: CHECK.
Bailey got behind Derrick Moncrief for six points, whereupon which Demski breezed past Larry Dean — who was turned inside out — for the 42-yarder.
Collaros throws four touchdown passes versus Saskatchewan: CHECK.
Two games in a row.
Article content
Non-existent pass rush: CHECK.
Saskatchewan failed to register a sack on Friday. There was a time, earlier this season, when the Roughriders routinely rattled rival passers. Highlights of those plays are available in black and white. Saskatchewan has just six sacks to show for its last six games. A.C. Leonard, who racked up a league-high 11 sacks last season, is now tougher to find than competitive gas prices. (On a positive note, the much-maligned Roughriders offensive line did not surrender a single sack on Friday. So there's that. Strike up the Roughriders' pep band in five … four … three … two … one. Members of the trombone section are much more proficient at handling a slide than their beloved football team.)
Article content
Not a single interception: CHECK.
The Roughriders have gone five full games — and most of a sixth — without registering an interception. The drought has reached 347:02. The last pick was by Moncrief at 12:58 of the first quarter on Aug. 19, when the Roughriders lost 28-10 to the host. B.C. Lions. Dean also had a first-quarter interception in that game. A Roughriders defensive back has not picked off a pass in 362:52 (take a bow, Rolan Milligan). There is also the case of safety Mike Edem, who was beaten by Demski for a 25-yard score on Friday. Edem has only one interception — on a Hail Mary pass back in Week 2 — to show for his last 41 regular-season and playoff games. Where have you gone, Ken McEachern?
General slapping of increasingly wrinkled foreheads: CHECK.
Article content
The Roughriders' forehead-slap-stick tendencies were evident when receiver Tevin Jones lost sight of the ball on a deep route. Jamal Parker intercepted Fajardo's pass (definition of "interception" is available on request) and trotted 37 yards to the Roughriders' 37-yard line. Demski scored — of course he did — six plays later. Jones atoned for his gaffe by, er, fumbling the ensuing kickoff.
So there you have it: Roughriders bingo — on a night when, once again, a victory was not in the cards. (It goes from dab to worse.)
As for the free space, well, that is the perception when a rival CFL team sees "Saskatchewan" on the schedule.
Was there a blackout? Sadly, no, so we had to watch Friday's unravelling on television. CLICK.
The sports world is ever-changing, as are the times. Supplement your steady diet of sports coverage by subscribing to the Regina Leader-Post's 306 Sports Fix newsletter. Each week, sports editor Rob Vanstone will provide additional commentary on the Roughriders, Pats and other teams/sports of interest, along with a peek behind the curtain. Click here to subscribe.
Rob Vanstone: Adversity never stops for 2022 Roughriders

Rob Vanstone: Dickenson's apology speaks to sorry state of Roughriders