Just five days after winning 26-16 in Edmonton, the Roughriders were roundly outclassed while losing 37-13 to the host Montreal Alouettes.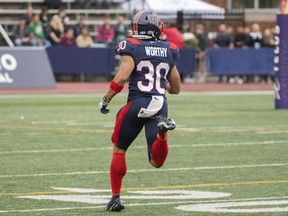 Article content
The Saskatchewan Roughriders journeyed all the way to Montreal and quickly fit right in — by becoming smoked meat.
Article content
The Green and White stunk for the cycle, surrendering a touchdown on offence, defence and special teams en route to losing 37-13 to the Montreal Alouettes in Thursday night's CFL, er, game?
Perhaps we should have seen it coming. After all, a mere five days separated the eyesore in Montreal and the Roughriders' less-than-impressive 26-16 victory over the host Edmonton Elks last weekend.
Most recently, the Roughriders were without stalwart centre Dan Clark, who suffered a broken right fibula and an ankle injury Saturday at Commonwealth Stadium.
With only one practice session between road games, the Roughriders were at a decided disadvantage heading into Montreal.
But still … they subjected everyone to THAT?
They couldn't get through one play without trailing.
Chandler Worthy returned the opening kickoff 88 yards, scoring the second-fastest touchdown in league history to begin a game.
He crossed the goal line just 12 seconds into the first quarter, having not been touched by anyone until gleeful teammates offered pats on the back, et cetera.
From the outset, the Roughriders seemed strangely disconnected from the game.
That isn't altogether surprising, considering the adverse circumstances cited above.
However, the team's penchant for penalties cannot be attributed to the chaos of the past few days. The flag frenzy has been a chronic problem for this team, dating back to last season.
Offside, it seems, is the official penalty of the Saskatchewan Roughriders.
Article content
On five (5) occasions, the Roughriders' defence — such as it was on Thursday night — was flagged for offside.
Fundamentals, anyone?
After being penalized 14 times for 134 yards in Edmonton, the Roughriders again reached double digits on Thursday. Andre Proulx and associates assessed Saskatchewan 11 penalties for 106 yards on Thursday.
Earlier in the week, Roughriders head coach Craig Dickenson delivered stern messages regarding the proclivity for penalties. Then came a first half in which the visitors were flagged eight times. This is progress?
Eight was also the magic (tragic?) number as the Roughriders were utterly lost when it came to protecting the quarterback.
Montreal piled up eight sacks, just five days after Cody Fajardo was felled four times.
He had barely been touched in a season-opening, 30-13 victory over the visiting Hamilton Tiger-Cats on June 11. Edmonton exerted considerably more pressure seven days henceforth. Then came Thursday, when the matador pass blocking put Fajardo — who was playing with a brace on his left knee — in danger.
Fajardo should have been removed from the game — not punitively, but mercifully — after his low pass bounced off receiver Duke Williams and was intercepted by the well-known (uh, what is his name again?) Marc-Antoine Dequoy, who trotted 21 yards to pay dirt late in the third quarter.
Alas, Fajardo was back on the field a few seconds later, just in time to execute one of offensive co-ordinator Jason Maas's beloved three-centimetre passes. (Yeah, that'll ignite a comeback from a 30-6 deficit!)
Article content
Mitchell Picton gained three yards after fielding the short flip from Fajardo. On second down, Fajardo advanced two yards before absorbing a hit from Najee Murray. Fajardo didn't exactly move like Fred Astaire while heading to the sideline.
So guess what? Fajardo was back on the field for one more series, early in the fourth quarter.
He was, of course, sacked on the first play, but was nonetheless able to march the offence to Montreal's 35-yard line.
On first down, Kian Schaffer-Baker was open in six-point territory, but appeared to misjudge the ball.
Fajardo also looked to the end zone on second down. The pass to Williams was a little late, but nonetheless catchable — especially for a receiver of his calibre. No such luck.
The ball was caught on third down — by Mike Jones, who happens to play defensive back for Montreal.
If anything, Jones did the Roughriders a favour. The interception was the impetus for Dickenson's decision to finally replace Fajardo with understudy Mason Fine.
Fine eventually threw his first CFL touchdown pass, finding Williams from five yards away with 1:36 left in the debacle.
By making a spectacular catch in the back of the end zone, Williams enabled the Roughriders to escape Montreal without incurring their most lopsided loss since Dickenson and general manager Jeremy O'Day assumed control of the football operations in 2019.
Saskatchewan had also lost by 24 points on Sept. 11, when the host Winnipeg Blue Bombers won 33-9.
Article content
Also at IG Field, Winnipeg had handed Saskatchewan a 25-point defeat (35-10) on Sept. 7, 2019.
That blowout was reminiscent of the Roughriders' 37-10 loss to the visiting Calgary Stampeders on July 6, 2019.
Saskatchewan trailed by as many as 31 points on Thursday, before Williams provided something for the Roughriders' highlight package.
But a compilation of the Roughriders' impactful plays from Thursday would devour less time than it took Worthy to sprint 88 yards and effectively extract any suspense from the proceedings.
It was that kind of night — one in which the Roughriders were not, at any juncture, a worthy opponent.
The sports world is ever-changing, as are the times. Supplement your steady diet of sports coverage by subscribing to the Regina Leader-Post's 306 Sports Fix newsletter. Each week, sports editor Rob Vanstone will provide additional commentary on the Roughriders, Pats and other teams/sports of interest, along with a peek behind the curtain. Click here to subscribe.