Saskatchewan Roughriders head coach Craig Dickenson feels "a message had to be sent" to suspended defensive lineman Garrett Marino.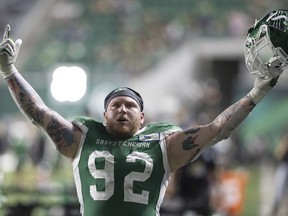 Article content
Craig Dickenson, the head coach of a 4-1 football team that is coming off a convincing victory and preparing for a landmark game, faced assorted media carnivores Tuesday and began fielding incessant questions about, well, none of the above.
Article content
Hello again, Garrett Marino.
Actually, the Roughriders' controversial defensive tackle wasn't anywhere near reporters' prying eyes during or after the team's first practice of the week at Mosaic Stadium.
As someone who is under suspension and not ticketed to play Saturday against the Toronto Argonauts in Wolfville, N.S., the most-talked-about figure in Canadian professional football in recent days was tucked away, somewhere.
The plan is for Marino to soon speak publicly for the first time since he singlehandedly turned Friday's game — the Roughriders' 28-13 home-field victory over Ottawa — into a circus by injuring Jeremiah Masoli with an illegal hit and proceeding to celebrate as the Redblacks' quarterback was writhing in pain.
After investigating the matter for a few days, the CFL announced Monday night that Marino had been suspended for a total of four games.
"I think a message had to be sent — I really do — and I think he got it, loud and clear," said Dickenson, who had planned to sit Marino out of Saturday's game even before the league issued its suspension.
"It's just a sad deal for everybody. There's no winners in this. I understand the league had to come down hard and send a message, and they did. We feel bad for everybody involved, including Jeremiah and including our guys. It's a sad deal and hopefully it never happens again."
The league suspended Marino for two games due to what was termed a "dangerous and reckless low hit" on Masoli and the resulting antics, which led to the 27-year-old lineman being disqualified.
Article content
After flexing his muscles, Marino doubled down by raising his hands in the air and blowing kisses to the crowd as he headed to the dressing room.
Additionally, Marino was handed one-game suspensions for an alleged reference to Masoli's heritage — he is of Polynesian descent — and for an "illegal and reckless tackle" of a Redblacks offensive lineman on a different play.
One big mess. Four games worth of punishment — the longest sentence in league history relating to game-related misbehaviour.
"It's unprecedented," Dickenson said. "I think for what he did on the field, it's a little harsh. But his reaction, the way he acted when he left, he knows that was a big mistake. That's something we don't condone around here, nor do we want to encourage it.
"We'll live with it and go from there."
If there is any unease on Dickenson's part, it pertains to the portion of the discipline that was meted out for what Marino is accused to have uttered.
"I'm not as in favour of that because that, to me, may be a little bit of a reach," the Roughriders' field boss said. "I'll let the league figure that out. I'll let the player talk to the (CFL Players' Association) and decide if he wants to appeal that part of the suspension.
"It's up to him what he wants to do. We support him if he wants to do it. We support him if he accepts it, but that one is a tough one."
Why might it be, in the head coach's appraisal, "a little bit of a reach"?
"I don't think Garrett's a racist," Dickenson said of the second-year Roughrider. "I know Garrett personally. I know how much he has grown in the last year."
Article content
With all of this swirling around, the Roughriders are readying themselves for a cross-country flight, the hoopla surrounding the Touchdown Atlantic road show and, lest we forget, a game.
"I think it's a distraction, of course, but I think it's going to help this team grow together and get stronger," quarterback Cody Fajardo said.
"We're brothers, so we talk things out. We hash it out. We don't always agree on everything, but the one thing we did in that locker room is guys let Garrett know how we felt about it, and we told him we're going to support him, because he's on our team and we're going to help him get through these tough times."
Tough times, indeed, at 4-1.
The news seems to be flying at us faster all the time. From COVID-19 updates to politics and crime and everything in between, it can be hard to keep up. With that in mind, the Regina Leader-Post has created an Afternoon Headlines newsletter that can be delivered daily to your inbox to help make sure you are up to date with the most vital news of the day. Click here to subscribe.