"I love adversity," Saskatchewan Roughriders receiver Duke Williams says, "because it's either going to make or break you."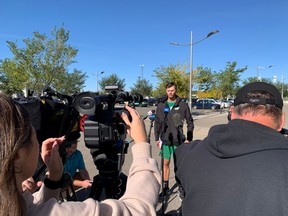 Article content
The "S" on the Saskatchewan Roughriders' helmet stands for "Suspended."
Article content
Garrett Marino: Four games.
Article content
Duke Williams: One game.
Gary Johnson Jr.: One game.
Jake Dolegala: One game.
The latter suspension stems from a charge of impaired driving that Dolegala, a 25-year-old backup quarterback, is facing — following what should have been a tranquil and therapeutic bye week for the Green and White.
"I can't tell you why things are happening the way they are," Roughriders head coach Craig Dickenson said. "The easy answer is we're making some bad choices out there. You can't wash your hands of that."
Washed away several weeks ago was the excitement fostered by the Roughriders' 4-1 start to the 2022 CFL season. Seven losses in a span of nine games have ensued.
The ignition of the Riders' slide coincided with a sideshow resulting from Marino's embarrassing behaviour late in the fourth quarter on July 8, when the home side was applying the finishing touches to a 28-13 victory over the Ottawa Redblacks.
Article content
Marino was subsequently disciplined by the CFL for injuring the Redblacks' Jeremiah Masoli, for celebrating even after being disqualified for the game, for making a verbal comment about the Ottawa quarterback's heritage, and for a late and reckless hit on opposing offensive lineman Dino Boyd.
After being reinstated, Marino administered two questionable hits in a span of three games, whereupon he was released.
As for Williams, the veteran receiver was handed a one-game vacation by the CFL for throwing a helmet at Toronto Argonauts defensive back Shaq Richardson before a July 16 game in Wolfville, N.S.
Johnson was placed on the Roughriders' suspended list following a post-game incident on Aug. 19.
"He came in first thing Saturday morning (and) owned up to being involved in an altercation, an incident," Dickenson said two days after being advised of the Johnson matter.
Article content
"He was very good about it. He took full responsibility. We ended up suspending him because he violated our code of conduct. It's conduct detrimental to the team, so I just wanted to put that out there."
The same organizational philosophy applied Monday, when the Dolegala issue became public knowledge via a team-issued media release.
In the cases of Johnson and Dolegala, the Roughriders were able to get out in front of the story, whereas they lost control of the Marino imbroglio at an early juncture and allowed it to fester for several weeks.
Whereas Marino was a starting defensive tackle, Dolegala is a third-string quarterback who seldom dresses for games. The impact of his suspension on the team's performance should be negligible.
Article content
However, the latest in a litany of image-related setbacks is likely to resonate for a longer duration in the public domain, simply because of the sheer volume of self-inflicted wounds this team has absorbed.
"My immediate reaction is, 'What can we do to get better?' " Dickenson said. "I don't feel sorry for ourselves. My immediate reaction is 'What can we do to help the young man out?' and, secondly, 'What can we do to make sure we communicate with the team so that they understand the impact of decisions off the field and hopefully do better?' "
But if they haven't figured it out by now, what will it take? Is there any realistic hope of this group suddenly demonstrating discipline on and off the field?
This a team, remember, that leads the league in infractions (139) and yards penalized (1,247) after its first 14 games.
Article content
Over the same span during the COVID-shortened regular season of 2021, Saskatchewan was also the league's most-penalized team. It was flagged 148 times for 1,250 yards.
Although the numbers are comparable from one year to the next, this season stands out due to the dizzying frequency of forehead-slapping issues.
Among them was an unsportsmanlike-conduct penalty assessed to Williams while he was in street clothes and standing on the sideline during a Sept. 4 game against the visiting Winnipeg Blue Bombers. The penalty ultimately took the Roughriders out of field-goal range during a game they lost 20-18.
"It happens," Williams said on Monday. "I wear my emotions on my sleeves. I apologized to my teammates for that, but that doesn't define who I am and that doesn't define who we are.
Article content
"That's weeks ago, so I've been past that. That's not even on my mind no more. It's about this next game, coming Friday."
Having recovered from an ankle injury, Williams is hoping to return to the lineup Friday in Winnipeg. In the meantime, he has an emphatic message for his green-clad colleagues.
"I just told them to block out all the outside noise," Williams said. "Don't let that get to you. Don't let one performance get to you. Everybody has a bad game. Everybody isn't going to go out there and just perform every game. It doesn't go like that.
"I told them in the locker room, 'It ain't over.' At the end of the day, I feel like when we get into the playoffs, we're going to be trouble. I truly believe that from my heart and I'm going to stand on that. We've just got to keep grinding.
Article content
"I love adversity, because it's either going to make or break you. It's going to create you or destroy you. I'm willing to face adversity head-on and overcome it.
"At the end of the year when we host that Grey Cup, it's going to feel that much better, and it's going to be a story to tell."
One that, ideally for the Roughriders, will be a pronounced contrast to the negative tenor of the "outside noise" that Williams referenced.
"Everybody knows social media is the devil," he said, chuckling. "But, at the end of the day, it's up to you how you accept it.
"There's only so much words can do. It's easy to tell you this and that. It's words. They can't do anything except just make me feel some kind of way. It isn't going to break me and it's not going to break any of my teammates.
Article content
"All you can do is talk. And that's what they do on Twitter — talk. That's what Twitter is for — to talk. But if we were 15-and-0, it would be a different story. Everybody would want to come by the house and have drinks with us and go eat out with us.
"Right now, it's iffy but, at the end of the day, it's football. I love my teammates and we're going to get it done.
"That's what it's about — adversity — and when we do what we're supposed to do, it's going to make it that much better at the end of the day.
"And those people who are doubting us, they're going to love us again."
Only then can the "S" stand for "Success."
The sports world is ever-changing, as are the times. Supplement your steady diet of sports coverage by subscribing to the Regina Leader-Post's 306 Sports Fix newsletter. Each week, sports editor Rob Vanstone will provide additional commentary on the Roughriders, Pats and other teams/sports of interest, along with a peek behind the curtain. Click here to subscribe.
Roughriders' Jake Dolegala feels he "let a lot of people down" with impaired driving charge

Rob Vanstone: A sprinkling of sunshine in a gloomy Roughriders season