The Saskatchewan Roughriders' 2022 season seems like an ordeal. But it has been worse. And who knows? It might get better.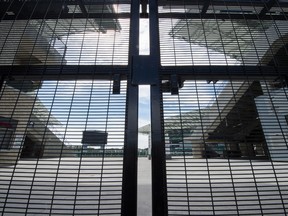 Article content
All hope for the Saskatchewan Roughriders' 2022 season has seemingly disappeared faster than Erin O'Toole.
Article content
Optimism fostered by the team's 4-1 start has all but disappeared during a Riders slide that has included seven losses in a span of nine games.
Article content
Everywhere you look — including here — the Roughriders are being lacerated by critics who point the finger at everyone from head coach Craig Dickenson to general manager Jeremy O'Day to offensive co-ordinator Jason Maas to quarterback Cody Fajardo to president-CEO Craig Reynolds to, at this rate, Gainer.
It all adds up to an utterly joyless experience — during a season that is to culminate with a Regina-based Grey Cup game on Nov. 20.
The intent here is not to add to the piling on, but instead to perhaps provide 700 predominantly soothing words that will perhaps allow everyone to sit back, take a deep breath, and relax.
Article content
First and foremost, ponder this thought: Two years ago, there wasn't even a Roughriders season about which to complain. COVID-19 resulted in the cancellation of the 2020 campaign.
Now THAT was joyless! The current climate is, or should be, vastly preferable to the nothingness that existed at or near the peak of the pandemic period.
Rewinding considerably further, a flashback to 1979 is presented here in the hope of providing some context and, yes, hope.
During the Roughriders' recently concluded bye week, I began to immerse myself in a nerdy side-project that involves the inputting of statistical information from games of yesteryear.
Flipping through the Regina Leader-Post's dusty, yellowed files from 1979, I was reminded of the first of two consecutive seasons in which Saskatchewan went 2-14. (Yes, 2-14. See? It could be much worse.)
Article content
Memory can be selective, especially after all these years, but I do not recall the collective mindset that prevailed in 1979 being nearly as corrosive as it is now.
Of course, nobody could have imagined social media back then. People in general did not seem to be as irascible.
But then, as now, the Roughriders' season appeared to be devoid of hope — and of joy — with four games remaining.
A mere 43 years ago, the production of six victories would have constituted an improvement of, well, infinity.
The Roughriders were 0-12 at a time when each CFL team played 16 games. Complicating matters, the 13th game was against the Edmonton Eskimos, who would soon win their second of an unprecedented five consecutive Grey Cup championships.
Article content
I remember heading to dear old Taylor Field strictly out of obligation, fearing what I might soon see.
The 1979 Roughriders, after all, had lost 52-20 and 40-0 in their previous two games against Edmonton.
So, naturally, the Roughriders won, 26-25.
Danny Sanders relieved the struggling starting quarterback, Lloyd Patterson, early in the second quarter and promptly enlivened a moribund offence.
Sanders threw for 242 yards and one touchdown — a 52-yard bomb to Joey Walters, who caught nine passes for a career-best 212 yards.
Incomprehensibly, the Roughriders made a game of it, to the point where the home side led 26-25 late in a fourth quarter that was supposed to consist entirely of garbage time.
With enough time left for one play, future Canadian Football Hall of Fame inductee Dave Cutler lined up to attempt a 32-yard field goal. It was, one presumed, an automatic kick.
Article content
But he missed!
Emil Nielsen retrieved the errant kick and, in an attempt to avert a game-tying rouge, booted the ball out of the end zone. Tom Wilkinson, who was holding for Cutler, caught the return volley and hoofed the ball back into the end zone. Roughriders kicker Bob Macoritti fielded Wilkinson's wobbler and punted the ball out of danger and out of bounds.
Game over. Losing streak over.
It felt like the Roughriders had just won the Grey Cup. They were 1-12 at the time.
Now the team has reconvened, after a week-long respite, with four regular-season games — and likely a trip to the playoffs — ahead of them. (Playoffs? The Roughriders failed to make the post-season from 1977 to 1987, inclusive.)
Next on the agenda is Friday's road date with the 12-2 Winnipeg Blue Bombers, who are striving to become the first CFL team to win a third consecutive championship since the 1981 Eskimos.
Article content
The looming Roughriders-Bombers collision may prove to be yet another eyesore for anyone with allegiances to the Green and White.
But, as the Roughriders demonstrated way back in 1979, you never quite know for sure.
The sports world is ever-changing, as are the times. Supplement your steady diet of sports coverage by subscribing to the Regina Leader-Post's 306 Sports Fix newsletter. Each week, sports editor Rob Vanstone will provide additional commentary on the Roughriders, Pats and other teams/sports of interest, along with a peek behind the curtain. Click here to subscribe.
Rob Vanstone: Defending Dickenson despite Riders' slide

Rob Vanstone: So much for 'sustained success' — Roughriders are a mess