Vancouver Police are investigating whether this incident is linked to Saturday's act of vandalism at the Olympic Cauldron in nearby Jack Poole Plaza.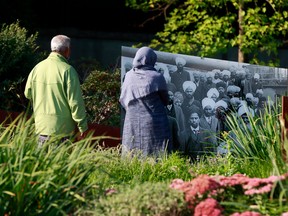 Article content
Vancouver's Komagata Maru memorial has been vandalized — the second such incident in 14 months.
Article content
Police said it launched an investigation on Tuesday, after learning from a social media post that someone had tried to break a glass panel protecting a historic black-and-white photograph that depicts some of the 376 passengers from the steamship, which docked in Vancouver's harbour in 1914 but was turned away due to exclusionary immigration laws.
Article content
"We don't just want to find the person who did this, but also understand why this cherished memorial was targeted," said Vancouver Police Const. Jason Doucette.
Investigators are working to collect evidence and identify a suspect or suspects, he said. "This investigation will take time, but we'll leave no stone unturned in our attempts to solve this senseless crime."
Article content
In August 2021, the memorial's steel panels were splattered with white paint and hand prints, covering up the names of passengers. A four-month investigation led to a mischief charge against Yuniar Kurniawan. He was sought on a B.C. wide warrant and arrested in March this year.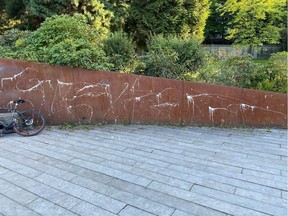 The case is still making its way through the court, with Kurniawan's next court appearance scheduled on Oct. 24 at the Downtown Community Court.
Police are also looking into whether this latest act of vandalism against the Komagata Maru memorial is related to the early Saturday morning destruction of glass panels on one of the arms of the Olympic Cauldron at Jack Poole Plaza, less than 200 metres away, by two suspects, including one who filmed the incident.
Anyone with information about the incident  is asked to call investigators at 604-717-0613, or anonymously at Crime Stoppers at 1-800-222-8477.