"People should be able to live their lives, to walk around without having to look over their shoulder in fear that someone is going to attack them," says police spokesperson Sgt. Steve Addison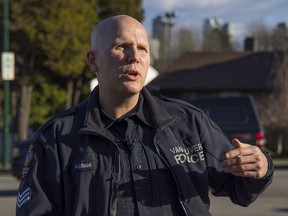 Article content
Vancouver police are searching for two young men they say attempted to rob and then attacked a woman in the early hours of July 11 near 10th and Trafalgar in Kitsilano.
Article content
Vancouver Police Department spokesperson Sgt. Steve Addison said the woman in her 30s was walking alone at around 3:30 a.m. when she was approached by two masked men who attempted to rob her.
"She was out for a walk and she was minding her own business," Addison said. "While they tried to rob her they assaulted her. They punched her, elbowed her and injured her quite badly. It was a blitz-style attack."
Addison said the woman's nose was broken and she received other facial injuries and required hospitalization.
Because the attackers were masked police do not have good descriptions and have increased police presence in the neighbourhood and are canvassing people in the community, he said.
"People should be able to live their lives, to walk around without having to look over their shoulder in fear that someone is going to attack them and people should not have to change their behaviour because other people are making them feel unsafe," Addison said.