The Vancouver Whitecaps are taking on the Seattle Sounders on Saturday. Follow sports writer J.J. Adams' dispatches throughout the game.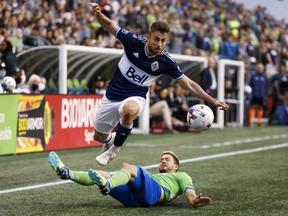 Reviews and recommendations are unbiased and products are independently selected. Postmedia may earn an affiliate commission from purchases made through links on this page.
Article content
It's 6:30, and I *really* should have been working for the last three hours.
Article content
The B.C. Lions are in Calgary duking it out with the Stampeders, and instead of covering the game off TV before coming to the Dome for tonight's Whitecaps game, my main man Steve Ewen has stepped in to cover the game. At least, I think he is.
Article content
I guess he's capable of multi-tasking…
Article content
LET'S GET TO THE GAME
It's 30 minutes to kickoff, and fans are slowly trickling into B.C. Place ahead of the game with the Seattle Sounders.
Except for the Seattle fans. They're already here.
The visitors section is packed to the gills already, a wedge of Rave Green against the orange and grey bleachers surrounding them.
They cheer the Sounders as they come onto the field for warmups, and the visitors are pulling no punches with their lineup. It's all guns-ablazing.
But as Vanni said Friday, "It's Canada — we're for gun control here."
Here's Seattle's lineup …
Article content
The Whitecaps are going back to the back four that helped them to their first shutout in 15 games on Wednesday.
The back line remains unchanged — It's Luis Martins, Ranko, Blackmon and Nerwinski (in his natural RB spot) with the only changes being Russell Teibert and Julian Gressel coming into the midfield.
Gressel, a natural wingback — it's why they went out and got him — said he didn't mind the switch to what is essentially a 4-4-2.
"The coaching staff identified what we needed and in order to maybe shore up some things in the back, and not maybe leak as many goals as we have been," said Gressel. "And you know, obviously it showed on Wednesday. If it works for the team, it works for me. That's always the No. 1 thing.
"I actually think the formation for me is great, in a 4-4-2 to defend on the right side. It's kind of a similar role as a wingback. So if there was a formation that's perfect, this is a perfectly tailored for me, but it doesn't take away any of my qualities."
Article content
WIFIIIIIIIIII!!
The Lions game is tied 23-23. This is what I get on my screen now.
Shaw getting a call tomorrow, you best believe that! WHAT'S ON THE LINE TONIGHT
A win keeps the Whitecaps' playoff hopes alive.
(Alive, like a comatose patient who's been tube fed for the last 11 years, that is). They need to win tonight, win in two weeks, then win one more after that, and hope a meteor strike takes out the games of all the teams ahead of them.
The Sounders come into tonight just barely ahead of Vancouver, but with a game in hand. With a (12-15-3) mark, they're ninth in the Western Conference, a point behind eight-placed L.A. Galaxy (11-12-7) and four behind Real Salt Lake (11-10-10) for the final playoff berth.
But there's more on the line for them; they made it to the post-season for 13 straight years, starting as an expansion franchise in 2009. They have more playoff appearances than MLS seasons under the Whitecaps berth.
Article content
Read more here.
It's 7:08, and we're underway!
6th minute: Martins with the best chance of the game so far. Pounces on a slow roller and pummels it at Stefan Frei, who is screen and only sees it at the last second. It deflects out for a corner, which Gauld connects with on a header, but puts onto the top netting.
15th minute: Sounders corner plays pinball inside the Caps area, but eventually Brian White clears to end the danger. Caps with 51 per cent possession at this point, just like all the experts called it.
18th minute: Three straight corners for the Sounders, and they generate three legit scoring chances, but the Caps come away unscathed. Only one actual shot, and none on target.
25th minute: Nico Lodiero gets chopped down, no call from the ref. So Alex Roldan goes after Ryan Gauld when he has the ball, and tries to drag him down by his shirt. Ramy Touchan shows him a yellow card, as a mob of Sounders descend on him to protest him missing the first call.