Summer means various informal or al fresco musical options.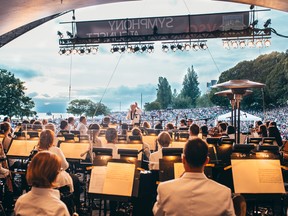 Reviews and recommendations are unbiased and products are independently selected. Postmedia may earn an affiliate commission from purchases made through links on this page.
Article content
VSO @ Bard: Marvellous Music
Article content
When: June 28, 7:30 p.m.
Where: Bard on the Beach Stage
Symphony at Sunset
When: July 2, 8 p.m.
Where: Sunset Beach
Symphony in the Park
When: July 16, 7 p.m.
Where: Deer Lake Park, Burnaby
Tickets and info: Vancouversymphony.ca or 604-876-3434
Summer means various informal or al fresco musical options. While the Vancouver Symphony Orchestra does have some upcoming indoor shows, the big items on its docket are a pair of free outdoor events, July 2 and 16 — weather permitting of course.
First up is a welcome return of Symphony at Sunset. In the summer of 2018, while the VSO was gearing up for hundred birthday celebrations, the orchestra gave its first ever performance on Sunset Beach. The wildly successful event was reprised the following year, with just as much enthusiasm. Then, well, we all know what happened in 2020 and 2021.
Article content
Now outdoor live music returns in a setting that few centres can match: by the water, right in the heart of one of the most dense urban areas in North America. Music director Otto Tausk will conduct a 90-minute program of spicy, passionate music. As is typical of such events, the concert is made up of lots of moving parts — orchestral tapas, if you like. Excerpts from Falla's ballet The Three Cornered Hat are followed by hits from the world's most popular opera, Bizet's Carmen, and a generous selection of music by the master of Argentine tango music, Astor Piazzolla (1921-1992).
And since you can't tango without the bandoneon, the characteristic South American concertina, Tausk and his orchestra are joined by soloist Carel Kraayenhof.
Article content
Actually, the notion of music al fresco is hardwired into the Orchestra's institutional memory. In the 1930s, the orchestra presented summertime concerts in Stanley Park's new Malkin Bowl before that venue became the home of Theatre Under the Stars' productions. Outdoor events were on an ad hoc basis for some decades, then in the '80s they once again became a featured part of the orchestral year.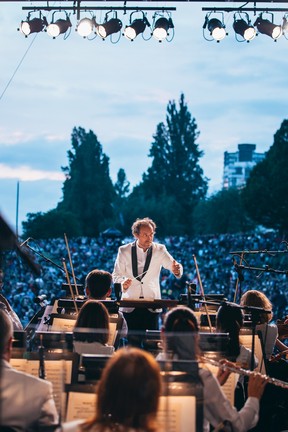 In 1988 the VSO was recovering from some very tough times; administration wisely realized that friend-raising was just as important as fundraising, and a free concert designed as a grand thank-you gesture to supporters and indeed the entire city was offered at Deer Lake Park. The gentle sloping lawn south of the Shadbolt Centre for the Arts proved just the thing for concerts, and here we are again, 33 years later.
Article content
This July 16, outgoing associate conductor Andrew Crust leads the orchestra in music by Leonard Bernstein: the Candide Overture and selections from West Side Story (a teaser for next spring, when the orchestra is slated to do a live music presentation with film), bits of Stravinsky and Smetana, Tchaikovsky's Romeo and Juliet, and then the obligatory 1812 Overture.
Expect both events to draw big crowds. Planning to stake out your territory good and early is definitely advised, and the VSO website gives hints on transportation strategies and what to bring with you.
If the idea of outdoor classical music appeals, but unreserved seating amid crowds really isn't your thing, there's another option, a lovely program at Bard on the Beach, June 28.
Article content
Concertmaster Nicholas Wright leads an ensemble of top VSO musicians in a program focused on English music: Purcell, Peter Warlock's very-1920s orchestrations of early dance tunes, and selections from Handel's rousing Water Music, premiered just over 300 years ago.
Modern Health and Safety initiatives rightly frown on the notion of 50-plus musicians afloat on an overcrowded barge illuminated by torches, so the authentic performance practice option is off-the-table.
But this ticketed event aims to be fine and festive and as close to an on-the-water event as can reasonably be mustered.
Tickets from $27.