The union hosted an all-candidates forum addressing policing issues in the city on Monday, and incumbent Mayor Kennedy Stewart took a grilling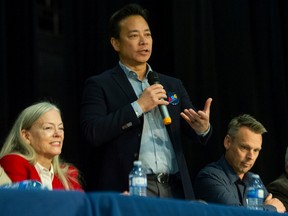 Article content
In a rare political endorsement for Vancouver's police union, the group has publicly come out in favour of mayoral candidate Ken Sim.
Article content
The union hosted an all-candidates forum addressing policing issues in the city on Monday, and incumbent Mayor Kennedy Stewart took a grilling.
Article content
"Public safety is the No. 1 issue in this year's civic election," said Vancouver Police Union president Ralph Kaisers in the endorsement. "Vancouverites are afraid to walk the streets of their neighbourhoods. Small business owners are struggling to keep their doors open."
The union said it based the endorsement on three things: The results of a public safety survey of the mayoral candidates from Aug. 18 to Sept. 2, a review by the union's board of the candidates' safety platforms, and the positions candidates presented on public safety issues at this week's debate.
Article content
In a statement, Sim called the support "an honour."
"ABC Vancouver reached out to nurses, doctors, police officers and frontline social care workers to develop its platform."
He said the party wants to get city hall working in "a collaborative, productive manner with all stakeholders.
"We feel that this endorsement is a step in the right direction toward repairing city hall's broken relationship with law enforcement."
Commitment to hiring more cops
A key part of Sim's ABC party platform that swung the union was its commitment to hiring 100 new officers and reinstating the school police liaison program. The union noted the party has also pledged to create a task force to look at a "dramatic rise in anti-Asian, antisemitic and anti-Indigenous hate crimes" in the city.
Article content
Kaisers said the union, which represents 1,450 officers, "feels safety is a right — for everyone. Electing Ken Sim and an ABC majority will ensure that police and other front-line responders will have the resources they need to protect and serve Vancouverites."
In the endorsement, the union also addressed its decision to enter the municipal election fray, a break from tradition. "Vancouverites don't feel safe in their city. The VPU board and its members are committed to taking action to change that — and if it means getting political, so be it.
"This municipal election, we need to demand accountability out of city hall because safety is a right and everybody deserves to feel safe."
Sim and Stewart have argued with each other aggressively at both major mayoral debates so far, and public safety was often at the centre.
Vancouver police union gets active in city election

Too hard to fire bad cops, says ex-police chief

Mayor Stewart takes his licks at police union debate