Five suggestions to help you plan your VIFF experience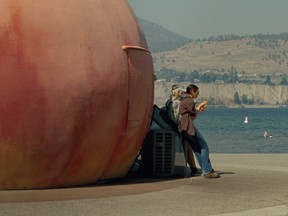 Reviews and recommendations are unbiased and products are independently selected. Postmedia may earn an affiliate commission from purchases made through links on this page.
Article content
A curated online program will also be available to the province. Of that number of films, 135 are features with 35 of those films coming from Canada, 13 from B.C.
Article content
Below are just five Canadian offerings you may want to pencil into your VIFF viewing plans over the festivals run from Sept. 29 to Oct. 9.
Bones of Crows
When: Sept. 29, 6 p.m. & Oct. 4, 9 p.m., at the Centre for Performing Arts
This film has been picked to open the festival and deservedly so. Galiano Island's Marie Clements is a master storyteller whose skill is in full view in this complicated — it moves back and forth through a century or so of time — story of one woman who survives the multiple horrors of residential school to go on to be a code talker for the Canadian Air Force during WWII, a successful mother of two kids and an activist. The film also stars B.C. actor Grace Dove.
Article content
Brother
When: Oct. 1, 6 p.m., Vancouver Playhouse; Oct. 4, 9:15 p.m. The Rio Theatre
Vancouver writer David Chariandy's fabulous novel Brother is given the cinematic treatment by director Clement Virgo (The Wire, Book of Negroes). Rooted in Chariandy's own childhood Brother is the story of a Black immigrant family that fights to rise above expectations and successfully navigate towards a successful, safe future. But this is 1990s Scarborough and life is hard for the two brothers (Lamar Johnson and Aaron Pierre) and their selfless, serious, and sacrificing mother (Marsha Stephanie Blake). In the end fate has another plan for this family.
Until Branches Bend
When: Oct. 2, 9 p.m., Vancouver Playhouse; Oct. 7, 6 p.m., The Rio Theatre
Article content
SFU alum Sophie Jarvis writes and helms this totally B.C. film about a fruit-grading, whistleblower in the fictional Okanagan town of Montague (a.k.a. Penticton because of the giant peach of course). In this, Jarvis's first feature film, Robin (Grace Glowicki) discovers a potentially invasive insect inside a peach. She reports her finding to the bosses, but management does nothing. Robin, deferential to a past devastating moth infestation, decides to take matters into her own hands and goes public. But, in this story the public doesn't want to hear about it and decides to blame Robin when the bug takes a big bite out the town's economy. This is a layered psychological drama with an intensity that is heightened by a dry, dusty summer heat, the kind that can make the best of us brittle.
Article content
Unarchived
When: Oct. 4 to Oct. 9 at VIFF Connect
When it comes to looking at the past the times are thankfully changing. Forever the model of museums, archives and frankly history has been the purview of the white colonist. In this NFB documentary, Hayley Gray and Elad Tzadok survey the inspiring work of a handful of community archives across B.C. that are run by curators and archivists from traditionally marginalized or excluded communities. The work of Indigenous, queer, trans, the Chinese Canadian Museum, the Tahltan Nation, the South Asian Legacy Project, and others are on display here as are some interesting, secret, untold histories. This world premiere screening is online and available across the province.
Article content
Women Talking
When: Oct. 5, 9:15 p.m., Centre for Performing Arts
Yes, this is a Hollywood movie. It's produced by Brad Pitt with a top-notch cast that includes Oscar nominees Jessie Buckley and Rooney Mara, and Oscar winner Frances McDormand — but its Canadian cred is deep. An adaptation of Manitoba native and award-winning novelist Miriam Toews' novel of the same name, the film is written and directed by Canada's Sarah Polley. Toews bestselling 2018 novel was a response to the abuse of more than 130 women who were repeatedly drugged and raped in a Mennonite colony in Bolivia between 2005-09. The book and film centres on a secret meeting a small group of women hold in a hayloft after they realize they were not assaulted by demons but by actual men known and close to them. The book is fabulous, tough, and sometimes funny. Expect that here with Polley's efforts.