If you're struggling with clutter, start asking yourself the hard questions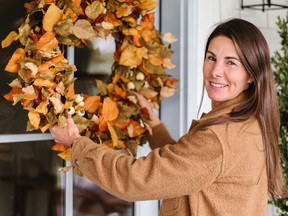 Article content
If you thought that having an organized home was simply a matter of willpower and overcoming laziness, you'd be wrong. There are several reasons why people can't sort out their living spaces, says Calgary-based professional organizer Megan Golightly, who will be speaking at the Vancouver Fall Home Show.
Article content
"There's trauma, or people feel the memory is in the thing," Golightly says. "They just don't trust themselves. So it kind of comes down to confidence, fear, shame, guilt, all those things which are all psychological problems of why we won't let go."
Article content
Having coped with ADHD, Golightly has insight and empathy when people get overwhelmed with clutter and just can't approach it. She says some may assume that they're supposed to be naturally organized, but that's not the case.
"We have to learn and watch and sort of forge those neuro pathways to be able to do it," she explains.
Her top tip is to start small. She suggests beginning in the bathroom because it's an easy room to organize and isn't filled with a lot of sentimental items that can trip you up.
Article content
And like anything else where skills are developed, organizing requires practice. "The more you practise, the more you're able to do it because I think you teach yourself," Golightly says.
It begins with asking the right questions; that's because not dealing with clutter can often be the result of "unmade" decisions that people avoid because they don't want to cope with it — or don't know how.
"So, I point people toward different questions to ask themselves to be better able to help themselves stay out of that loop," Golightly says. "Do I need it? Do I love it? Would I buy it again today?"
Paperwork can be daunting, but Golightly says once you have a system in place, you'll likely not get overwhelmed again.
"Have the right home setup if you don't tend to open your mail," she says. "You have a specific place to put it and you go through it every week."
Article content
The key to ensure future success is completing that first project, be it a closet, a bathroom or the paperwork.
"Once you do it and you have the success, you get the dopamine hit and you want to keep going. You know how to do it because your brain is on board."
For those not living in Calgary, Golightly uses Instagram (@gosimplified) and detailed how-to guides, available for purchase at go-simplified.com.
Megan Golightly appears on the Sleep Country Main Stage Saturday, Oct. 22, at 2 p.m. and Sunday, Oct. 23, at noon.
Vancouver Fall Home Show: Organization a key theme at this year's milestone event

Vancouver Fall Home Show: 5 tips for mastering the home edit