Wonder Wall exhibit will display three different accent walls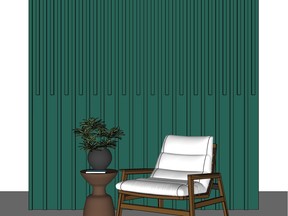 Article content
The Vancouver Fall Home Show is all about inspiring homeowners to enhance their homes. This year, even before showgoers enter the main hall, inspiration will be front and centre with the Wonder Wall exhibit that features creative DIY ideas to add visual interest to bland, unadorned walls.
Article content
"I think we all have a wall that's really bare, and we don't know what to do with it," observes Taylor Nomura, the interior designer behind the Wonder Wall exhibit that displays three different accent walls.
Article content
"We have three eight [foot] by eight [foot] walls, and they asked for me to put up different ways a homeowner can decorate the one awkward part of their house."
Nomura, founder and owner of Taylor Reiko Design, wanted to present ideas that homeowners might want to do themselves rather than hire a designer and not be overwhelming for those with a limited DIY skill set.
"I tried to pull from the relatable and simplistic approach," she explains. "Each wall has a theme while using a very similar material so that the homeowners can say, 'Oh, I really like this mid-century look. This looks manageable. I'd like to go ahead and try it myself.' Or 'I really like this industrial look. I never thought about how vertical shiplap could make the space feel taller.'"
Article content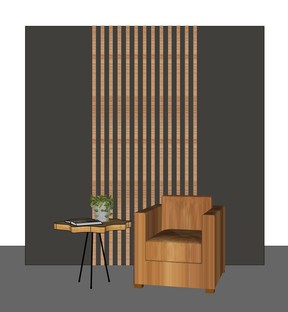 Nomura named the walls East Coast Grit, Mid-Century Sleek, and Minimal Beauty. For the more industrial-themed East Coast Grit, she used one-inch-by-two-inch wood strips vertically on the wall for an expansive feel. The wall behind the wood strips will be painted a dark charcoal hue to contrast with the natural wood tone of the moulding.
The effect for Mid-Century Sleek is achieved using vertical moulding but cut to different sizes. The wall is all one colour that Nomura plans will be something bright in the green family. Minimal Beauty will have shiplap halfway up the wall resembling traditional wainscotting. Whereas usually, wainscotting is painted a different colour than the upper part of the wall, in this instance, both parts will be drenched in one modern hue.
Article content
"It's a classic shiplap country look, but we're going to be painting it in a nice pale pink beige colour," Nomura says. "It's going to be really warm and inviting."If applied moulding doesn't appeal to homeowners, Nomura offers some other simple options for jazzing up vertical spaces.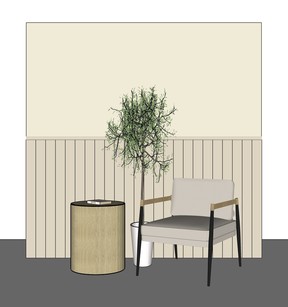 Create a mirror wall with a collection of mirrors of various sizes and finishes. If you don't want to hang mirrors, use a collection of larger ones that can just lean against the wall. "What I love about mirrors is that no matter where you place them, they will make the space look larger," Nomura explains. "It's almost like a pocket of extra space. If you look into a mirror, you'll see the reflection of what's behind you. It adds a lot of visual contrast depending on how you decorate the rest of the room."
Reimagine a gallery wall but with all your favourite memories. "There's a way to juge it up and make it very modern in a sophisticated way," Nomura says. "I really love an old Hollywood theme … with black frames and black and white photos." She advises to tie the colour and style of the frames into the style of the furniture and vary the sizes.
Nomura wants people to remember that simply painting a wall is transformative. "You can get a lot of variations just by how you put paint on a wall, by taping off different areas," she says. "When you do a colour on a wall different from the rest, making it a feature wall, I would say to homeowners to be mindful that the darker the colour, the more it comes out at you." She suggests experimenting first on a scrap of drywall to see which effects you want to achieve.
For the more adventurous homeowner, Nomura says stucco is a beautiful way to add texture to a space and can be customized to any hue to complement the rest of the room.
Nomura hopes homeowners can draw inspiration from the Wonder Wall to banish their bare walls and not be intimidated by the prospect. "I tried to be really mindful of that because I understand how anything home-inspired can be really overwhelming to someone who is not well trained with wallpaper and glue, for example."
Vancouver Fall Home Show: Organization a key theme at this year's milestone event

Vancouver Fall Home Show: 5 tips for mastering the home edit

Vancouver Fall Home Show: Cooking up comfort with Bruno Feldeisen