Column: ABC-majority council to take $3.8 million in empty homes tax revenue — most of which had already been paid and all designated for social housing — and send it back to developers. One councillor called it "a reverse Robin Hood tax."
Get the latest from Dan Fumano straight to your inbox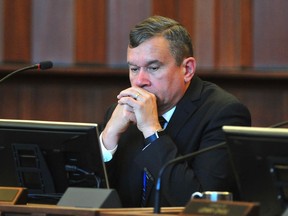 Article content
Vancouver's ABC-majority council decided Wednesday to waive $3.8 million in taxes that had already been levied on real estate developers who own newly built empty homes, a move that drew rebuke from the non-ABC councillors.
Article content
The empty homes tax revenue, most of which has already been collected and all of which was earmarked for social housing, will now instead go back to developers.
Article content
The decision came after council's ABC majority amended city staff's recommendations on adjustments to the empty homes tax, deciding to not only create a new exemption for developers, but apply it retroactively.
The three non-ABC councillors, who are from the Green party and OneCity, opposed the move. Some registered their shock, with one calling it a "reverse Robin Hood tax."
Since Vancouver's empty homes tax was introduced in 2016 as the first of its kind in Canada, the development industry has lobbied for an exemption for "unsold inventory," meaning vacant homes that have been built but not yet sold.
Article content
This was not a major issue in the early years of the tax, when the condo market was red-hot and there was almost no unsold inventory in Vancouver.
The current environment, including rising interest rates, has slowed sales, meaning more developers are taking longer to sell completed units, city staff told council on Wednesday.
So, as part of a series of changes to improve the empty homes tax's fairness and efficacy, city staff recommended two possible alternatives for how to treat unsold inventory starting with the next tax year.
The first recommendation would exempt unsold homes from the tax for as long as they're vacant, until the developer sells the unit to an end user. This option, the city staff report noted, was consistent with the exemption in the B.C. government's vacancy tax, which was introduced after Vancouver's empty homes tax and is similar in many ways, but with different details and exemptions.
Article content
The second option would still exempt unsold units, but with a time limit: Developers would be free of the empty homes tax for the year the unit was completed, plus the full subsequent year, and then the tax would kick in.
At Wednesday's council meeting, Green Coun. Pete Fry proposed council endorse the second option, saying the time limit seemed like a good compromise.
"I do appreciate some of the concerns we've heard from the development industry, they're sitting on properties they can't move, and I think this is a compromise to recognize, let's give them a couple years," Fry said. "If this is a market-economics condition that is unfairly impacting them, I think we should give that consideration, but I certainly wouldn't want to offer that in perpetuity, because I don't think that meets the intention of the empty homes tax."
Article content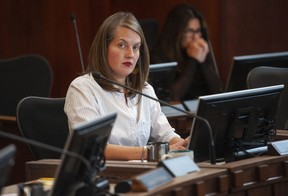 OneCity Coun. Christine Boyle had already told Postmedia News earlier in the week she opposed exempting new homes from the tax, saying that while she supports making it faster and easier to build new housing, she doesn't think the city should make it easier for developers to hold units empty instead of reducing prices to sell to homebuyers. But on Wednesday, Boyle said she supported Fry's backing of the time-limited exemption, saying: "If this is the middle ground on this approach, I can live with that."
Green Coun. Adriane Carr also supported the time limit, calling it an "incentive" for developers to pay attention to "the pricing that will entice people to buy within the market rather than leaving inventory unsold."
Article content
But the proposal failed, with all ABC council members opposing.
ABC Mayor Ken Sim said: "I'll keep my comments brief. People that build homes have choices. They can build them anywhere."
Any time the city creates "another punitive thing" for developers, Sim said, "it just sends a signal that Vancouver is not receptive to building more homes."
Then, fellow ABC Coun. Mike Klassen proposed amending the language proposed by city staff around the exemption for unsold inventory. The city's finance department had recommended council approve a new exemption for unsold inventory, beginning in the 2023 tax year — but Klassen proposed making the exemption "effective retroactively," starting with 2022.
The Urban Development Institute, an organization representing the real estate industry, had been lobbying for city hall to create an exemption and apply it retroactively to earlier years.
Article content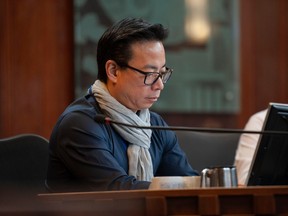 But the non-ABC councillors expressed shock at Klassen's proposal Wednesday.
Boyle said: "I am actually sort of stunned that we are proposing basically returning $3 million plus in funds that have already been collected for a bylaw that was understood."
"Instead, there's a proposal here not just to exempt newly built properties, but to retroactively write a cheque back for $3 million plus that has largely been collected," Boyle said. "I am almost speechless, which is uncommon for me. It's like a reverse Robin Hood tax, and I am strongly against it."
Fry said he was "incredulous" at the proposal the city should take millions of dollars "from social housing to return vacancy payments."
This retroactive change would apply to $3.8 million in empty homes tax that was already levied on the developers who own about 60 unsold new condos that sat empty for most of last year.
Article content
About two-thirds of that $3.8 million had already been paid, city staff said, and the rest is already past due. The money had not yet been allocated, but as mandated under the empty homes tax bylaw, all that money was earmarked for social housing.
But instead, city hall will now cut a cheque to reimburse those developers who have already paid, and those who have not yet paid their tax bill for last year will be off the hook.
The three non-ABC councillors — Boyle, Carr and Fry — opposed Klassen's amendment, but it passed with the support of all the ABC votes.
At the same meeting, Vancouver council also voted to keep the empty homes tax at three per cent, cancelling an increase to five per cent that had been approved by the previous municipal government.
Teenage discos, pen pals, psychics: Vancouver to modernize business licensing

Dan Fumano: 'Overloaded' by developer interest, Vancouver city hall seeks to prioritize
---
Support our journalism: Our in-depth journalism is possible thanks to the support of our subscribers. For just $3.50 per week, you can get unlimited, ad-lite access to The Vancouver Sun, The Province, National Post and 13 other Canadian news sites. Support us by subscribing today: The Vancouver Sun | The Province.