"The status quo is not an option."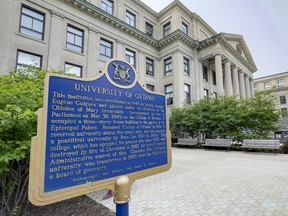 Article content
The union representing part-time professors at the University of Ottawa says members may go on strike if the school isn't more "accommodating" of its demands in ongoing labour talks.
Article content
The Association of Part Time Professors University of Ottawa, which represents more than 600 employees at the school, says 87.5 per cent of its members voted last week in favour of striking after the university rejected all union demands and filed for conciliation — which involves bringing in a conciliator from the Ontario labour ministry to mediate talks — after just three meetings aimed at reaching a new collective bargaining agreement.
"We mistakenly thought that the senior administration would be more forthcoming and accommodating at the bargaining table to support its precarious faculty during this difficult time," Robert Johnson, association president and chair of the union's bargaining committee, said in an interview.
Article content
In a statement last week, the union said the university's "repeated demands for concessions" indicated it intended to "compromise the employment conditions of their professors and impose a lockout in the middle of the summer term." Most labour negotiation parties in Ontario must go through conciliation before locking out employees, going on strike or taking other steps in the bargaining process.
The union has also filed a bad faith bargaining complaint with the Ontario Labour Relations Board, demanding that the employer return to bargaining.
In a statement, the University of Ottawa said it was "hopeful that a negotiated agreement will be reached" and was "committed to holding these talks in good faith."
Article content
The school declined to further comment on the state of negotiations, but said a conciliator had been appointed by the Ministry of Labour and conciliation meetings were scheduled for July 14 and 15.
A vote in favour of a strike doesn't mean a labour disruption will happen immediately, only that the union has the mandate to pursue one should talks falter.
The union said it was still hopeful that it could avoid a labour dispute, which it predicted would cause serious disruptions for the 60 per cent of uOttawa students taught by part-time professors.
The part-time professors' grievances come after two years of "difficult" working conditions during the pandemic — many classes were conducted remotely over Zoom — and amid a one-per-cent wage increase freeze invoked by the provincial government even as prices for food, gas and other essentials continue to surge, according to the union.
"The status quo is not an option. We demand that the employer stop taking advantage of the situation to exacerbate our precariousness," Johnson said.
He added that the union hoped the strong support for the strike mandate would force the university to respond to members' demands.
"This is an unequivocally strong mandate from our members," Johnson said. "Considering that we only have about 250 members teaching during the summer session, we are heartened by the level of member support and engagement at this time."