The University of Regina "is facing budgetary challenges as a result of ongoing, pandemic-related factors including a decline in student enrolments."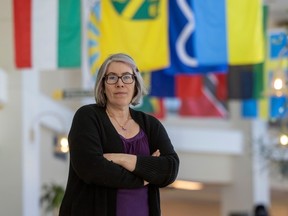 Article content
Britt Hall, president of Uni­ver­si­ty of Regi­na Fac­ul­ty Asso­ci­a­tion (URFA), says she's been "hearing a fair amount of anxiety from our members."
Article content
URFA represents more than 1,500 people across the university in fac­ul­ty, ses­sion­al, librar­i­an, lab instruc­tor positions as well as administrative, professional and technical staff and, it appears, cuts are coming.
Article content
A copy of an internal email, sent to members of the University of Regina faculty on behalf of Dean Biesenthal, the university's associate vice-president, was shared with the Leader-Post. The email gives a hint at the University of Regina's current financial strains.
"The University is using the core mission of teaching, research and service to determine how we can reduce base budgets using scenarios between 5-7%," reads the email sent on Feb. 14, 2023.
As a means to achieve that goal, the email mentions "a special arrangement incentive" as it relates to retirement.
Article content
In a file sent as part of the email, the university communicated that notice of "intent to resign or retire under this arrangement" must be received by the Dean of Arts "no later than March 17."
"By exercising voluntary options available in the collective agreement there will be immediate budget savings and will lessen involuntary impact on people and positions," continued the email.
Asked for a response, an emailed statement from the university said as it prepares its budget for 2023-24, it "is facing budgetary challenges as a result of ongoing, pandemic-related factors including a decline in student enrolments."
According to the University of Regina 2021-22 Annual Report, there was a "decline of 14 per cent in international student enrolment in Fall 2021," and lower domestic enrolment ending a 12-year streak of student growth. International students pay substantially higher tuition rates than students from this province.
Article content
Also, the university posted a "$15.3 million revenue shortfall in the General Fund for the 2021-22," according to the report.
The university said fall 2023 enrolment numbers are recovering, but "our total enrolment numbers are still below the levels we were seeing pre-pandemic."
Coupled with increasing costs and inflation, the university has asked all faculties and administrative units "to develop multiple scenarios for differing levels of budget reduction."
"While serious, these challenges are within our capacity to manage," said the university.
Given the budget decrease mentioned, Hall stated, "URFA members do not have any provisions in their collective agreements on layoffs."
But, there is a "precarious workforce of University instructors that have sessional contracts." What Hall expects is that there will be fewer sessional contracts coming out as a result of these looming cuts.
Article content
URFA has not received "any notice surrounding any financial exigency," said Hall, trying to dispel the spectre of what occurred at Laurentian University, which underwent drastic cuts and programs and staff due to funding shortfalls in 2021.
"It looms," said Hall.
"We felt rock solid about our ability to maintain our institutions even during slow times. And now people are definitely worried."
More than 200 faculty members and staff were laid off from Laurentian University and 72 programs were cut.
"We've been assured from the University of Regina upper administration that we are not in a situation like that," said Hall.
Every faculty has been told it needs to make room for cuts, said Hall. Being "reminded" of the possibility of taking an early or special retirement seems to be an indication of where the wind is blowing, she said.
Article content
What's more, there is no word that those positions will be replaced.
"We have been told that if there is a retirement, there will be, at this point, no hiring to cover that workload," said Hall. That has to lead to URFA members expressing reticence in leaving their department if that means an additional workload for co-workers or the possible shuttering of a program, she said.
To Hall, this seems to indicate cuts will come from sessional lecturers.
"It wouldn't be a surprise to anybody."
Hall said the province is ultimately responsible for post-secondary education. She feels the government should spend "some of those surplus dollars on supporting our post-secondary institutions."
— with files from The Canadian Press