Mother and her two school age children left the war zone in Eastern Ukraine soon after bombing started and ended up in Canada on June 1. They would like to be able to stay permanently and have the father join them but life is unpredictable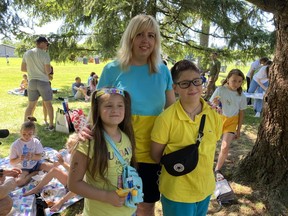 Article content
Olha Borshchevska and her two children have been in Canada less than a month but they felt right at home at a picnic organized in New Westminster on Saturday for them and about 120 other recent arrivals from Ukraine.
Article content
She and son Oleksii, 10, and daughter Yana, seven, moved to Canada on June 1, after leaving Bucha in Eastern Ukraine, near the Russia border and therefore close to the bombs, missiles and troops that invaded Ukraine on Feb. 24.
Even though she had to leave her economist husband behind because men between 18 and 65 are required to stay in case they are needed to fight the war, now entering its fifth month, she is relieved to be far away from the war zone, even if just temporarily.
"It is so unpredictable right now," she said in Ukrainian through her friend, Anton Bobanov. "It's difficult knowing if they can stay and I am hoping my husband can come."
The family would like to immigrate to Canada permanently, a dream of theirs even before the war, she said.
Article content
She is hoping to learn English so she can eventually get a job in her field of sales analysis and in the meantime would like to work as a seamstress, as sewing is a hobby of hers.
The picnic was organized by Help Us Help Ukraine, a clearing house for about 300 of the 2,000 arrivals to the Lower Mainland from Ukraine over the past four months, said organizer Iryna Dzobko.
It was also the end-of-the-year concert for Saturday morning Ukrainian classes for children at the New Westminster Ukrainian Catholic Church, with 60 students mostly under 10 years old singing and reciting poetry.
Dzobko said she expects the school to grow to 150 students next year thanks to recent immigrants and they're looking for a bigger facility to accommodate them.
Article content
"We don't have room for all the kids," she said.
Help Us Help Ukraine helps arrivals find jobs, enrol in English lessons, get settled in school, match them up with donated goods and first and foremost find a place to live.
"Vancouver is not an easy place to live in," Dzobko said, herself an immigrant six years ago.
Borshchevska and her children are fortunate to be able to live in a woman's house in New Westminster for the summer as she visits another part of Canada. They would like to stay in Metro Vancouver but are prepared to move wherever the housing and jobs are.
"But we don't know what to expect in our lives right now," Borshchevska said through the translator.
Canada announced that as of March 17, Ukrainians could apply for a special no-fee visa that allows them to live in Canada for up to three years. They can work or study and children can enrol in school immediately.
More than 300,000 Ukrainians arrived since then.
An estimated eight million Ukrainians have fled their country, which had a population of about 41 million before the war.