'I'm very hopeful that we as a party can really come together well, on October 7 and, again, unite around our fundamental principles that define us as Conservatives'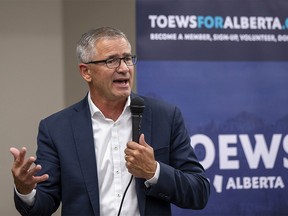 Article content
Unity and health care are at the top of Travis Toews' mind and will be his priority if he is successful in becoming the leader of the governing UCP party and the next premier of Alberta.
Article content
In a recent interview with Postmedia, the former finance minister said the party will need to quickly shift focus to beating Rachel Notley and the NDP in next year's general election and continuing to build on positive aspects of what has been achieved since his party formed government three years ago.
Article content
"I'm very hopeful that we as a party can really come together well, on October 7 and, again, unite around our fundamental principles that define us as Conservatives," said Toews. "We've made great progress on the economy over the last three years. We've taken an economy that was flatlined in 2019 to an economy that's leading the nation and in economic growth, we've got our lowest unemployment rate since very early 2015. And, you know, we're seeing economic diversification at rates I probably have not seen in my lifetime."
Article content
Often considered part of Premier Jason Kenney's inner circle, Toews was one of a small group of cabinet ministers joining Kenney atop the Sky Palace during the COVID-19 pandemic. When he launched his current campaign this summer, he arrived with over two dozen endorsements from the current UCP caucus.
Since then, Toews has gone head to head with six other candidates including former Wildrose leaders Danielle Smith and Brian Jean, who have both recently pointed to polling that labels them as the frontrunner. However, Toews said his team is confident they have the momentum ahead of Oct. 6.
"We see increasing momentum … It's a tight race, no doubt about it. But, we see increasing momentum and so we're pushing right to the end," said Toews.
Article content
Toews touts budget surplus at Calgary campaign pitch

Alberta UCP leadership candidate Travis Toews would reindex AISH by Jan. 1

'Fairy tales:' UCP leadership hopefuls show united front against Smith's Sovereignty Act
If he is successful, he said he will turn his attention to fixing health-care issues on his first day in his new job. Toews said he would work to get foreign-trained health-care workers the proper approvals they need to work in Alberta. Toews also received a boost last week when the government implemented a plank of his platform: removing testing and fee requirements around graduated driver's licences.
However, if he fails to secure the leadership, it is unclear if he would remain within the party. He has remained tight-lipped about whether or not he would run for provincial office should he lose the vote. He declined to comment on that decision when speaking to Postmedia.
Article content
"With respect to, again, personal political decisions, I'll reserve until after Oct. 6. But fully, fully committed to the movement of the party, and absolutely respectful of members' decisions around leadership," said Toews.
Toews also declined to comment on if he felt the 29 MLAs endorsing him would vote against the Alberta Sovereignty Act — a potentially unconstitutional bill being pushed by Smith but opposed by Toews and most other candidates. While restating that he believed the act would not help Alberta financially or with the federal government, he reiterated that unity would be necessary moving forward, while also stressing cabinet would need to present solid policy.