The Calgary-Shaw MLA and former children's services minister vows to build alliances with other provinces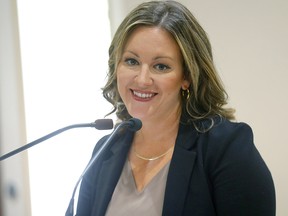 Article content
Rebecca Schulz is promising to bring hope and optimism to the province if elected UCP leader on Thursday.
Article content
The Calgary-Shaw MLA and former children's services minister said Albertans have been frustrated for a long time and she would stand up for the province and its priorities, vowing to build alliances and relationships with other provinces as opposed to being a lone wolf.
Article content
"I don't think that there's one piece of legislation that will magically address all of our challenges with Ottawa," she said. "I do think that a provincial summit with other like-minded provinces would be helpful in addressing this — also just saying 'no' to areas where the federal government is infringing or encroaching upon areas of provincial jurisdiction."
Schulz, who calls herself a fiscal conservative, has experience working with Ottawa in helping negotiate the $4-billion deal this past year for $10-a-day child care.
Article content
The mother of two has released a fully costed platform showing how she will balance the budget, eliminate Alberta's debt over the next decade and address shortfalls in Alberta's social infrastructure programs such as health care.
Schulz pledges to eliminate bureaucracy at AHS and divert the cost savings to additional health infrastructure, such as urgent care and recruitment of doctors across the province.
She promises to continue to grow the energy sector by working with other provinces to get oil to tidewater, and to streamline the process of building refining capacity in Alberta. She will also continue the work to diversify the economy by attracting tech, film and television, and other sectors, while creating a small-business tax holiday for the next two years.
Article content
Agriculture plays a big role in her platform with a value-added agriculture tax credit, rejecting attempts by Ottawa to install a fertilizer cap, and doubling the rural stream of the Investment and Growth Fund to help rural communities close deals with investors.
She says she will split surpluses 35 per cent into the Heritage Savings Trust Fund, 35 per cent into paying down debt and 30 per cent to address issues such as affordability.
In education, she vows to hire 3,500 more educational assistants, respect parent choice, provide funding to hire more teachers within 30 days, double capital funding over three years and go back to the table on social studies curriculum development.
Braid: UCP candidate Schulz calls for end to 'arrogant, entitled, out-of-touch' politics

Rebecca Schulz enters UCP leadership race, vowing to defeat NDP

Rona Ambrose to lead Rebecca Schulz's UCP leadership campaign

Albertans uneasy about UCP leadership front-runners and Notley: poll
Despite heavyweight endorsements from conservative stalwarts such as Rona Ambrose and former Saskatchewan premier Brad Wall, Schulz is a dark horse as the campaign heads into the final days.
Whoever wins will face the difficult task of bringing unity back to a fractured party. Schulz says she will focus on the grassroots and promises to door knock in all 87 constituencies, and work to rebuild trust with the electorate.
"There is no one person in this race as leader who can do this on their own — unite the party and win the next election. It is going to take our team," she said. "Politics is a team sport. And unity is unequivocal for our success."
Twitter: @JoshAldrich03