For an application to be successful, a candidate must raise $175,000 and submit 1,000 signatures of support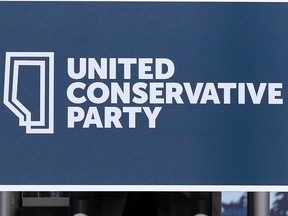 Article content
Declared United Conservative leadership candidates are filing their forms or dropping out of the race as the deadline for applications to be submitted is just over one week away.
Article content
The deadline for candidates to file their applications is July 20 and as of Tuesday afternoon, one candidate was officially listed on the UCP website: MLA for Grande Prairie-Wapiti Travis Toews. That list is much shorter than the one on Elections Alberta's declared candidate list, where 10 names are listed.
Christine Myatt, spokeswoman for Toews' campaign team, said he submitted his package on June 27 and was officially approved eight days later on July 5. She said Toews is humbled by the support he has received so far.
"The fact that he was able to raise the entry fee and collect well over the required 1,000 signatures in such a short period of time is a testament to the fact that his message is clearly resonating with UCP members," said Myatt. "Travis is focused on travelling the province, listening to Albertans and earning their support."
Article content
For an application to be successful, a candidate must raise $175,000 to be paid over three installments, including a $50,000 deposit required alongside the application. Candidates must also submit 1,000 signatures of support, with 200 coming from each provincial region — Calgary, Edmonton, north, central and south — alongside a number of other requirements such as passing a credit check. Once an application is successful they will appear on the UCP's official website as a candidate.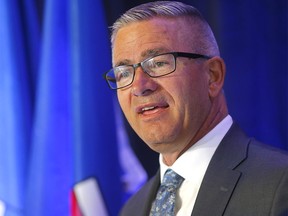 Chestermere-Strathmore MLA Leela Aheer said she has raised the funds and is expecting to complete the regional signature requirement shortly. She said she had expected to file her application Tuesday but due to a missing document, she expects to file later this week.
Article content
"We actually have over 1,000 signatures, they're just not from all of the right areas," said Aheer. "We're going to be declaring hopefully this week. So I'm so excited, I'm beyond touched and honoured for the way that people have responded to our very grassroots campaign."
Meanwhile, former Wildrose leader Danielle Smith issued a statement Wednesday saying she had collected the necessary funds alongside more than 4,000 signatures and had submitted her application.
"We did it, we passed the first hurdle. We got nearly 5,000 of you to sign my nomination papers, thank you so much," said Smith in a video posted online. "In addition to that, we have submitted the full $175,000 payment that we need to make."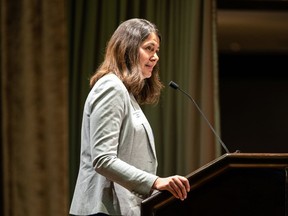 Vitor Marciano, a spokesperson for Fort McMurray-Lac La Biche MLA Brian Jean's campaign, said they had submitted their application but that they were dealing with some technicalities around submitting the necessary funds.
Article content
"I'm sure the party's working on our application and on our memberships. We've been back and forth with them on the money thing. One way or another they're gonna get their first transfer If not, tomorrow, then Thursday," said Marciano.
Rebecca Schulz's team issued a statement saying they have had a strong start to the campaign and are optimistic they will meet all the requirements. Rajan Sawheny's team said they expect to file all the required documents "shortly."
However, as a number of the candidates are squaring away their nomination applications, at least one declared candidate has withdrawn from the race. Amisk Mayor Bill Rock posted online saying he intends to take his name out of the running after he was unable to raise the $175,000 and felt he did not have the support he needed from rural constituency associations.
"This does not mean that I will not continue to advocate for Rural Alberta. I will continue to be in the back of the room and raise my hand and ask the tough questions of our provincial and federal governments on tough issues that we face," Rock wrote in a Facebook post.
Requests for comment sent to Todd Loewen, Jon Horsman and Raj Sherman were not returned Tuesday afternoon.
A new leader for the UCP will be chosen on Oct. 6. Premier Jason Kenney will remain at the head of the party until that time.