Wednesday's gallery opening was the first time Callista Ottoni met many of her research subjects in person, despite having worked with them for over two years during her research.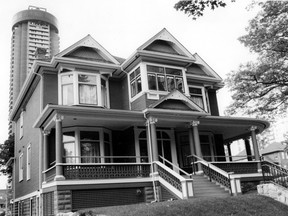 Article content
A photography exhibit at Vancouver's Barclay Manor highlights the experiences of West End seniors during the peak of pandemic-era lockdowns.
Article content
The exhibition, which opened Wednesday and continues through Oct. 12 at the headquarters of the West End Seniors Network, is connected to a research project that looked into the impacts of COVID-19 on the lives of Vancouver seniors living outside of the long-term care system.
Article content
"I asked them if they'd be willing to take photographs of moments where they felt either connected or isolated in their neighbourhoods," Callista Ottoni, a PhD student at the University of B.C., said of her research.
Ottoni said the photos she received tended to focus on three main themes: access to green space, comfort at home and technology. One image captures an early morning walk in the park after emerging from lockdown. Another captures the ever-ubiquitous video chat.
Article content
Ottoni then used the photos to engage the seniors in a discussion.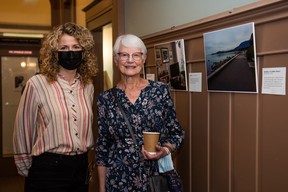 "I'm the oldest person in the building, I think," Hilary, an 84-year-old study participant living alone in a West End apartment, said during a research interview. Family names of study participants were redacted for privacy reasons.
"My next-door neighbour is a young man, he's about 35," Hilary said. "He loves to bake, so, I'll open my door and there'll be a little box of cookies or brownies. He said, 'What can I get for you?' So, I gave him a list. And he's gotten me Lysol disinfectant and masks and — he's just a darling."
"Our research supports that many older adults looked directly to their neighbours for emergency goods, and social support," Ottoni wrote in an article published in the journal Health & Place. 
Article content
Nobody really likes to talk about loneliness or social isolation, Ottoni said.
"Having the photographs in a public setting allows a jumping-off point to potentially have more personal conversations. It's almost like an icebreaker.
"We form connections and meanings with different places that we might not be able to articulate in words, but if we have feelings about them and if we're able to show, not tell, then it becomes a more intimate experience and a more personal experience and a more shared human experience," Ottoni said.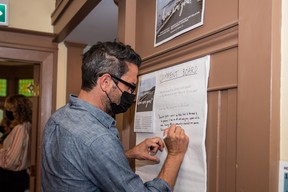 After asking participants to take photos, Ottoni, who has a background in documentary film production, met with them via phone or online chat. Her project is based on a common method of qualitative research called 'photo voice' that provides research subjects the chance to guide research questions through the use of photography.
Article content
"It really allows the participants to direct you to what's most important, so they become the leaders," she said of the technique.
"We knew very little about what was going on in the day-to-day lives of older adults, outside of long-term care. An important distinction is that my research focuses on people living in the community."
In her article, Ottoni calls on community leaders to ensure that, as pandemic restrictions lift, they "recognize the diverse needs of older adults" by "bolstering neighbourhood-based efforts to mobilize low-barrier access to in-person, telephone or internet-based social engagement opportunities for older adults who are historically, persistently or currently marginalized." 
Article content
Ottoni acknowledged most study subjects were Caucasian, cis-gendered women, meaning the research couldn't easily be translated to other Vancouver communities.
"You would have to do research specifically within different neighbourhoods, focusing on different ethnic backgrounds to have a more fulsome picture of what was going on," she said. "The study really was the experience of older people living in downtown towers."
Wednesday's gallery opening was the first time Ottoni met many of her research subjects in person, despite having worked with them for over two years during her research.
"It was quite moving," she said.
Vaughn Palmer: B.C. seniors advocate not afraid to roast government despite lack of job security

Twitter Share on Linkedin Open more share options Breadcrumb Trail Links Seniors News Local News Life Health Many seniors exercised, socialized less during the pandemic. That needs to change
[email protected]
twitter.com/njgriffiths
---
More news, fewer ads, faster load time: Get unlimited, ad-lite access to The Vancouver Sun, The Province, National Post and 13 other Canadian news sites for just $14/month or $140/year. Subscribe now through The Vancouver Sun or The Province.