Norman, 39, still faces a single count of sexual assault involving a 17-year-old boy at an acreage near Saskatoon in March 2021.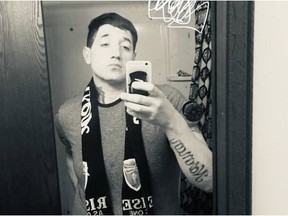 Article content
A Saskatoon man facing sexual assault charges involving three young men had two of his charges stayed Wednesday in Saskatoon Court of King's Bench.
Article content
Kyle Edward Norman, 39, remains charged with a sexual assault stemming from March 12 and 13, 2021 near Corman Park, according to a new indictment filed in court.
Article content
The charge involves an alleged incident involving a 17-year-old at an acreage on Hodgson Road, police said when he was arrested four months later. 
Norman is alleged to have met the complainant over social media. At the time, he was also charged with breaching his release conditions on two prior sexual assault charges.
Those charges against two 18-year-old men — one from Sept. 18, 2019 and the other from between Oct. 15 and 17, 2019 — have been stayed. The men alleged they had met Norman online and were assaulted at a home in the 200 block of Stensrud Road in Saskatoon's Willowgrove neighbourhood.
Article content
"(The charges) did not meet the prosecutorial standard to continue," Crown prosecutor Tyla Olenchuk said when asked why the Crown ordered the stay.
A stay of proceedings means a charge will be dropped unless new evidence is brought forward within a year.
"We are pleased the Crown in this case exercised her discretion and directed a stay of proceedings against those complainants. As the file proceeded a number of things have come to light and we certainly agree and respect her decision as a result," defence lawyer Aleida Oberholzer said.
In May 2020 — two months before his two 2019 charges were laid — unrelated charges of aggravated sexual assault and confinement involving a different 19-year-old man were stayed after Norman signed a peace bond — a promise to abide by certain conditions for a specified period of time.
Article content
For 12 months, he agreed not to possess or consume any illicit drugs or contact the complainant, whom police said Norman met over social media in October 2019.
Norman had elected to be tried by a judge and jury on all three of his sexual assault charges. His jury trial on his outstanding charge is still scheduled for April 17, 2023.
Saskatoon man accused of sexual assault facing additional charges

Man accused of sexually assaulting men he met online elects trial

Saskatoon man, accused of sexual assault, arrested on breach charge

Kyle Norman signs peace bond; aggravated sexual assault, confinement charges stayed
The news seems to be flying at us faster all the time. From COVID-19 updates to politics and crime and everything in between, it can be hard to keep up. With that in mind, the Saskatoon StarPhoenix has created an Afternoon Headlines newsletter that can be delivered daily to your inbox to help make sure you are up to date with the most vital news of the day. Click here to subscribe.