"I mean it's really hard. There's nothing I can say that's going to make me feel better for a while, but that's the game. Somebody has to win and somebody has to lose. Today we lose, and we're gonna see next year," Hernandez said.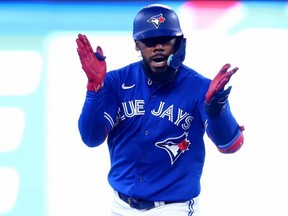 Article content
The game of Teoscar Hernandez's life wasn't enough, and afterward, the Blue Jays' crushing 10-9 loss on Saturday looked to be weighing on the former Silver Slugger winner's shoulders.
Article content
Hernandez belted a pair of home runs, and was hit by a pitch for good measure in a frightening bout of Seattle wildness, and also was denied a chance to do some damage after the Mariners had shockingly made it anyone's ball game. A terrible call by home plate umpire Todd Tichenor denied Alejandro Kirk an eighth-inning base on balls, which would have given Hernandez another chance. Instead, after Kirk was retired, Hernandez had to lead off the next inning.
Article content
But long before that, he put his stamp on Blue Jays playoff history.
However, all Hernandez can do now is tip his cap to an organization the Jays fought tooth and nail last season (both ultimately fell just short of the postseason) and be hopeful about the future for this now slightly less green group of Blue Jays.
Article content
"They played hard. They're a good team," Hernandez said in a subdued Jays clubhouse.
"It didn't work for us. The good thing is there's always next year. We're going to keep working … try to do it again next year."
He meant do more, of course, and this group believes itself capable of doing so. But for now, it's tough.
"I mean it's really hard. There's nothing I can say that's going to make me feel better for a while, but that's the game. Somebody has to win and somebody has to lose. Today we lose, and we're gonna see next year," Hernandez said.
Added Bo Bichette: "I think we can look back and be really proud of a variety of things. We overcame a lot and grew a lot. It sucks tonight for us, (though)," he said.
WHAT HAPPENED?
Bichette didn't shed much light on the scary incident that forced George Springer out of the game and allowed the Mariners to seize momentum and tie the game 9-9.
Article content
The shortstop and centre fielder got crossed up, allowing the ball to fall in and for both to get banged up.
Bichette was asked if either were calling each other off. "I think it was just in the middle of us. Nothing we could do," Bichette said.
EXPERIENCE DIDN'T MATTER
It's one thing to express confidence after a deflating series-opening loss. It's another thing to have the experience to back up the belief.
Several veteran Blue Jays had just that, having gone through actual series comebacks following a loss off the bat (or even the opposite following a first-game win). 
It didn't matter in the end, but former World Series MVP Springer had seen just about everything in the playoffs. When Springer's Houston Astros won it all in 2017, they not only dropped the opener before rallying, but even trailed 3-2 in the ALCS before winning in seven games. A year earlier in the ALDS they won the opener but lost the series 3-2, something that also happened to the Astros in the 2018 ALCS, when they went up 1-0, only to lose the next four games. In the 2019 ALCS, Houston shook off a first-game defeat.
Article content
In Springer's final season in Houston, the team even fell behind 3-0 in the ALCS before stunningly winning three in a row, only to ultimately lose Game 7.
Reserve outfielder Jackie Bradley Jr. had a similar resume. He's a former ALCS MVP who has been on teams that lost a series (2021 NLDS) despite taking the first game, and on another that went 8-1 and won a championship after losing the opener of the 2018 ALCS.
Ross Stripling and Kevin Gausman had also seen how little Game 1's result often matters (and that would have been the case again on Saturday had the Jays not blown a huge lead).
AROUND THE BASES
Hernandez became the first Blue Jay to hit two home runs and get hit by a pitch in a postseason game. In fact, Hernandez became just the 13th Jay to be hit by a pitch in a playoff game, with Whit Merrifield quickly becoming the 14th … Matt Chapman was rock-solid on Saturday, making play after play at third base. He also got the Jays an would-be insurance run with a hustle play, sliding into first base to set up a Danny Jansen RBI. Ahead of the game he had talked about picking up ace starter Alek Manoah after Manoah's tough Game 1. "I could tell he was pretty down on himself. I did talk to him. Just wanted to let him know that proud of the way that he battled. We all got his back, and there's nobody we would rather have out there," Chapman said.
Manoah appeared thrilled to see the Jays playing well on Saturday, acting as the most exuberant cheerleader from the dugout before things turned. He took the loss hard. "There's a lot of pain going on in this locker room right now and we felt that last year," Manoah said. "We were one game short and this year we got two games further. This group of guys is going to continue to take pride every day and go home, have a good off-season and get ready to get back at it."
@WolstatSun