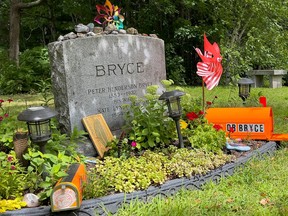 Article content
Ceremonies at Beechwood Cemetery to mark Friday's National Day of Truth and Reconciliation were set to begin on Tuesday with an evening airing of a 1978 CBC radio drama, titled The Audience, for residential school survivors, their families and communities.
Article content
The drama, which will be available to the wider public at Beechwood at 7 p.m. on Wednesday, Thursday and Friday, imagines a conversation between Duncan Campbell Scott and Dr. Peter Henderson Bryce (both of whom are buried at Beechwood).
Article content
Scott was deputy superintendent of the Department of Indian Affairs for almost 20 years, beginning in 1913, and supported the government's policy of the assimilation of Indigenous residents, as well as residential schools.
Bryce, meanwhile, was chief medical officer of the federal Departments of the Interior and Indian Affairs, whose 1907 report exposing the terrible conditions in residential schools was largely buried by officials, with Scott in particular opposing Bryce's recommendations for reform, In 1922, following his retirement, Bryce published his findings himself, under the title The Story of a National Crime: Being a Record of the Health Conditions of the Indians of Canada from 1904 to 1921.
Article content
The radio drama, says Beechwood's Nick McCarthy, was the result of much research, including historical documents and letters, and serves as a reminder of what people have known about residential schools for decades.
"In 1978, they weren't afraid of telling the truth. They were talking using words like murder and genocide. The recording had very candid assessments of what was going on, even though it was done through the bias of Duncan Campbell Scott being this great Canadian."
The broadcast's significance, he adds, is that it provides the narrative that Canadians have long ignored the problems stemming from the residential schools system.
"We were told in 1907, in 1922. We were told in the 1940s. We were told on CBC radio in 1978, and it still took another 20 years for the residential schools to close down.
Article content
"This is a story about listening."
Beechwood has additional activities planned for Friday, including a 10:30 a.m. unveiling of a plaque at the James Hope & Sons building at 61 Sparks St., where Bryce had his report published; Downtown Ottawa Reconciling History walking tours, which will run from 9 a.m. to 3 p.m. and highlight Scott and Bryce's opposing views; and, from 9 a.m. to 7 p.m., Reconciling History walking tours and other activities at the cemetery itself. The tours there will feature the final resting places of a number of key figures in the residential school system.
Visit beechwoodottawa.ca for more information.