Article content
"I don't have a coming out story, because I was never in. I started seeing women and sleeping with women when I was 14 years old, so I didn't have much time to figure out anything; I just dove right into it. But I have a going out story — going out in big style.
"It was my first foray to a gay bar here in Ottawa. I'm from Smiths Falls, where I think we had one other lesbian in town, but I didn't know her very well. But I knew what I was going to do, and so I knew where to go.
"I was 15 and a friend and I took my mother's car and we drove to The Coral Reef. It was a club on Nicholas street, across from the jail and downstairs. It was the craziest bar ever. When you walked in the front door before you went downstairs, there was a great big meat hook on the ceiling, and I thought, 'Okay, this is a little bit crazy.' But we went down the stairs and there was a whole room full of women dancing and having a beer and it was like, 'Okay, this is home. I'm never going anywhere else.' Except I had to take my mom's car back or she'd be mad. But it was absolutely comfortable right from the jump.
Article content
"And because you're 14 or 15 years old, you don't know that you're not all that and a bag of chips, and I thought I was. You know, I had the outfit on, I had the whole thing going on, the short haircut.
"I was into sports a lot, and that was my other hook. It was really easy because if you wanted to find a lesbian, just find a ballpark or a softball diamond. So I joined a hockey team here in Ottawa, and I joined a softball team in Ottawa, and from that you had your social group.
"I had a hot red sports car when I turned 16, a TR6. So I was even more all that and a bag of chips. I thought, 'Okay, this is a chick magnet for sure, right?' I was really, really cocky.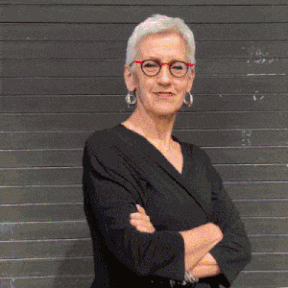 "So I was playing hockey and I saw this woman who was the best friend of two of the players on the team. She kind of knew who I was, and I had the biggest crush on her ever. And so I said to my friend Debbie, can I have Judith-Anne's number?
"I call her up — this is the first part of December, I was about 18. And I said, 'Hi, it's Kerry. Would you like to have dinner Friday night? And she said, Oh, I really would but I'm busy. And I said, 'Okay, well how about Saturday night?' And she said, 'I'm busy then, too.' I thought this was very strange, so I said, 'Okay, how about the following weekend?' She said, 'I'm out of town then.' So now I'm pissed, right, because nobody's ever said no to me and I think I'm all that and a bag of chips. So I said, 'Okay, fine, how about the first Friday in January?' And she said, 'Good, pick me up at seven.'
Article content
"And then she spent the next eight years totally redoing me as a person. Thank God, because I credit her for everything. She kind of made me more responsible, and I just stopped being an arse, because I was an arse and she wouldn't have any part of it. And she did it very gently. We were together nine or 10 years as partners. And one day we just realized we loved each other to death, but we were not in love. After we split up, she met her life partner and they moved to Vancouver, but we always stayed in touch.
"She was my first serious relationship.
"Now it's almost a lunch-bag letdown to be gay because in the beginning you kind of had a passion. You know, like, oh, this restaurant won't let two women hold hands. So obviously we're going there and we're going to hold hands. Or they won't let two women kiss, so we're going there and are going to kiss.