Quebec Premier François Legault, who was criticized by organizers over Bill 21, will be absent due to "family obligations."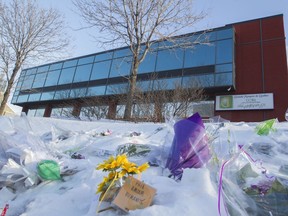 Article content
A ceremony will be held Sunday evening to mark the sixth anniversary of Quebec City's deadly mosque shooting.
Article content
Prime Minister Justin Trudeau will be in attendance. Quebec Premier François Legault will be absent.
Article content
Six Muslim men were murdered in the Quebec City Islamic cultural centre by a lone gunman shortly after evening prayers on Jan. 29, 2017: Ibrahima Barry, Mamadou Tanou Barry, Khaled Belkacemi, Abdelkrim Hassane, Azzedine Soufiane et Aboubaker Thabti.
For the first time, the ceremony is being held inside the mosque's prayer room, the very place where the rampage took place.
This return to the prayer room is "very significant," according to the organizing committee, which said in a press conference on Thursday that the location "charged with emotions and meaning."
Deputy Premier Geneviève Guilbault and Jonatan Juilen, the minister responsible for the Capitale-Nationale region, will represent the provincial government.
Article content
Premier Legault will not take part in the ceremony because he has "family obligations," his press attaché, Ewan Sauves, told La Presse Canadienne.
"We're disappointed that he's missing the first commemoration held inside the mosque," said Nora Loreto, one of the organizers. "We understand the importance of family obligations, but it's still disappointing."
Legault normally makes his way to the site to deliver a speech; In 2021, "when nothing was normal" due to the pandemic, he sent in a video, Loreto recalled.
Ceremony for Quebec mosque attack to be held in prayer room where shooting occurred

Quebec mosque shooting left invisible scars, young Muslims say

Verdun vigil honours victims of Quebec mosque massacre
Last Thursday, the organizing committee once again denounced his CAQ government's Bill 21.
Article content
"This law upsets all the work we've done to live together," said Mohamed Labidi, the president of the Islamic Cultural Centre of Quebec.
"Our brothers and sisters all feel targeted by this law."
Bill 21 bans employees of the state in positions of authorities from wearing religious symbols.
Legault defended the law on Friday at his party's caucus meeting in Laval.
He said it was "false" to claim the law had encouraged islamophobia.
"This is a reasonable law," Legault said in a press conference, arguing it was a compromise and that some parties wanted to go even further.
"I think it represents the will of a majority of Quebecers, (…) and for me, it's false to say that it has an impact on people who choose not to like Muslims."