After less than two hours of deliberating, a 12-person jury found Travis Patron, the founder of a small Canadian nationalist party, guilty of assaulting two women.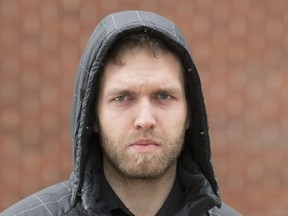 Article content
After less than two hours of deliberating, a 12-person jury found Travis Patron, the founder of a small Canadian nationalist party, guilty of assaulting two women.
Article content
Crown prosecutor Ryan Snyder suggested to the jury that the reason Amanda Ruschiensky and Allison Tokarz were struck by Travis Patron is that the women stood up for themselves.
Synder described the events of Nov. 2, 2019 in his closing statement to the jury, describing how Patron followed the two women into the lobby of a Regina condo building after striking Ruschinesky.
Speaking with a tinge of sarcasm while viewing video from the lobby of the building, Synder walked the jury through the sequence of events as Patron "for lack of a better term, hauls off" and "whacks her in the head," saying Patron did so because Ruschinesky "had the audacity to say 'don't shush me.'"
Patron was found guilty on two counts of assault causing bodily harm against the women. During Thursday's proceeding, whenever the clerk told the room at Regina's Delta hotel to "all rise", Patron remained sitting.
In anticipation of delivering his own closing statement to the jury, Patron, wearing an orange RPCC shirt paced behind his table. He represented himself during the trial, did not cross-examine Ruschiensky or Tokarz and brought forward no evidence or witnesses.
Patron's rambling closing statement to the jury included appeals to the Queen, questions of the constitutional legitimacy of his trial, religious allusions including evocation of Deuteronomy and other matters that were not submitted as evidence before the jury.
The man who was, at least at one point, the leader of a small but recognized political party in Canada appealed to the spiritual convictions of the jurors and their affirmations to serve. This appeal was rebuked by Regina Court of Queen's Bench Justice Beverly Klatt.
Article content
Patron said the attempts to convict him were "manifestly without merits and destined to fail," before going into what he called a "faith-based argument."
Klatt had to interrupt Patron's closing statement, dismissing the jury as Patron veered into accusations that justice had not been done, that he had been prevented from cross-examining the two women he struck among other matters outside the scope of the trial.
When the jury was brought back into the room, Patron claimed that Regina Police Service Const. Jessica Mcbride gave false testimony and "departed from objectivity by transporting the victims to the local hospital."
He went on to claim he has been "unlawfully confined" in contravention of habeas corpus.
"Her Majesty the Queen cannot put this man to trial in these matters," Patron said, in reference to himself. He also spoke on a matter that was subject to a publication ban, after which Justice Klatt again tried to get Patron to focus on the material elements of his closing statement.
Patron claimed that this trial was "a malicious prosecution. In actuality, the Crown has done nothing in these matters apart from playing the role of a malicious actor."
But at the end of his statement Patron was penitent, asking the jury of his peers for absolution.
"We have asked and continued to ask for forgiveness," he said, adding that he asked for forgiveness from the witnesses "the very same day as the incident."
During the trial the jury saw evidence of text messages asking for forgiveness.
Article content
"To forget is human, but to forgive is divine. Be willing to forgive," Patron said Thursday.
This week the court heard that Patron had met the two women at a downtown bar. After, the women left Patron and went to a friend's condo. As they were calling it a night, Patron reappeared and asked where they were going next.
When the women said they were going home he offered them a ride.
Ruschiensky refused, Patron shushed her, placing his finger on her lips. She objected and was then struck. Tokarz had her head down at the time, trying to order an Uber, and did not see the initial assault. A short time later she was also struck by Patron.
The entire incident lasted only a few minutes, the assault, around one minute.
But in that time, Tokar fractured her wrist bracing her falling self after being struck in the face by Patron. Ruschiensky suffered a concussion, and felt the effects for weeks and months after, only working half days and wearing a hat and sunglasses to work due to light sensitivity.
Klatt commended the jury for their role in the short but difficult trial.
The justice rebuked two points made by Patron during his closing statements; that he was unable to cross-examine the two witnesses and that the crown acted with malice.
"That is not true. I am telling you that he was given ample opportunity to cross-examine the witnesses and declined to do so," Klatt told the jury. "You are to disregard his comments."
She also noted that "any assertion of illicit malicious prosecution here is completely without foundation."
Article content
As for the ask for forgiveness, Klatt also addressed this saying "Mr. Patron asked you, the jury, for forgiveness. Your duty is to decide this case based on the evidence you've heard in this courtroom and nothing else."
Patron will remain in remand until sentencing on July 20. When asked if had any issue or preference regarding date and time Patron said "exercising my right to remain silent."
The news seems to be flying at us faster all the time. From COVID-19 updates to politics and crime and everything in between, it can be hard to keep up. With that in mind, the Regina Leader-Post has created an Afternoon Headlines newsletter that can be delivered daily to your inbox to help make sure you are up to date with the most vital news of the day. Click here to subscribe.