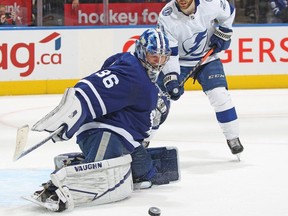 Article content
It was a good day for the Canadian teams. 
Article content
Well, most of them.
Though Calgary lost a superstar, Toronto and Edmonton shored up their goaltending and Ottawa made a push to become a playoff team. All in all, it was a busy start to the free agency period.
Here's a look at the winners and losers so far:
WINNERS
Johnny Gaudreau
Whether he signs in New Jersey, Philadelphia or Long Island, Gaudreau won't get what he had in Calgary. And we're talking about more than just the money and term he left on the table. The Flames were the best team in the Pacific Division last season. And his linemates — Elias Lindholm and Matthew Tkachuk, who each scored 42 goals — were a huge reason why Gaudreau scored a career-best 40 goals and 114 points. Good luck putting up similar numbers next year on what could end up being a non-playoff team.
Article content
Edmonton Oilers
A month after beating Calgary in the Battle of Alberta, Edmonton won the Battle against Toronto in a bidding war for Jack Campbell. It says a lot that the Oilers were able to snag the best goalie on the market. And while the five-year term presents a lot of risk for a goalie who prior to last year had never played more than 31 games, it's a lot less risky than another year of Mike Smith and Mikko Koskinen. Re-signing Evander Kane after he led the playoffs in goals was also a win. Now, if Ken Holland can manage to acquire a top-4 defenceman in exchange for Jesse Puljujarvi and Warren Foegele, he might win GM of the year.
Article content
Ottawa Senators
The rebuild appears to be over. Or, at least close to over. Either way, don't expect the Senators to end up with the second-worst record in the East again last season after the additions GM Pierre Dorion has made. From trading for prolific scorer Alex DeBrincat to acquiring goalie Cam Talbot to signing Claude Giroux for three years, this is a team with playoff aspirations. After all, the 34-year-old Giroux, who has never won a championship, didn't come to Ottawa just to be close to home. "I wouldn't sign here if I didn't think we had a chance to win a Cup," he told TSN.
Article content
Toronto Maple Leafs
A day ago, when the Leafs chose to trade for Matt Murray rather than re-sign Jack Campbell, we might have had them in the losers column. But then the team signed Ilya Samsonov to a one-year contract, giving them a tandem that might actually be better than last year's Campbell-Petr Mrazek tandem. The best part? Murray has two years left on his contract, while Samsonov is on a one-year deal. That means that both will be motivated. It also means that if things go sideways, the Leafs have the flexibility to change things up again. However, if that happens, it probably won't be GM Kyle Dubas making the changes.
Detroit Red Wings
Pencil in Detroit for a wild card spot. After hiring a new coach and trading for goalie Ville Husso last week, the team went all-in on the first day of free agency by signing Andrew Copp, David Perron, Dominik Kubalik and defenceman Ben Chiarot.
Article content
Brent Burns
The 37-year-old, who leaves San Jose for Carolina, becomes relevant again. Expect Burns, who had 10 goals last season, to replace Tony DeAngelo, who was traded to the NY Rangers, on the power play. And expect the Hurricanes to finish atop the Metropolitan Division again. 
Mikhail Sergachev
Say hello to Tampa Bay's highest-paid defenceman. Sergachev, who will be paid $8.5-million next season, will never be confused with Victor Hedman. But he is now earning more than the Norris and Conn Smythe Trophy winner ($7.875-million).
Staal Brothers
While Marc Staal signed a $750,000 contract to play for the Panthers, brother Eric, who didn't play in the NHL last year, will also be joining him on a professional tryout. Here's hoping it works out for both of them.
Article content
LOSERS
Calgary Flames
There's no way to sugarcoat it. Losing Gaudreau hurts the Flames. And while we have to see what Calgary uses the money on (Nazem Kadri? Ondrej Palat?), the fear is that is the first domino to fall causing Matthew Tkachuk, who is a restricted free agent, to eventually head out the door. That's a worry for another day. But even with Tkachuk, it appears that the Flames could be challenged to stay ahead of the Oilers and Golden Knights — much less replicate their 111-point regular season finish from last year.
Atlantic Division teams not named the Lightning 
Tampa Bay's Stanley Cup winning streak came to an end this year. But if you think we've seen the last of the Lightning, think again. Though the team traded away Ryan McDonagh and lost Ondrej Palat and Jan Rutta to free agency, the bulk of the roster is here to stay. And with the "new core" of Anthony Cirelli, Mikhail Sergachev and Erik Cernak all re-signing for eight years — and Brayden Point's eight-year deal kicking in this season — they are expected to remain competitive for a very long time.
Article content
Pittsburgh Penguins
About that rebuild … it no longer looks like it is happening. But with Pittsburgh re-signing Evgeni Malkin and Kris Letang, it also appears that we won't be seeing another Stanley Cup parade anytime soon. The Penguins, who have yet to miss the playoffs in 15 years, have also gone five straight years without advancing past the first round. And with an ageing roster, they seem content in mediocrity.
Chicago Blackhawks
The purge continues for the Blackhawks. Gone are Alex DeBrincat, Kirby Dach, Dominik Kubalik and Dylan Strome, along with team executive Scotty Bowman. And in their place are Max Domi and Andreas Athanasiou, whose one-year deals allow Chicago to trade both players — along with Patrick Kane and Jonathan Toews — for more picks at the trade deadline.
Article content
Washington Capitals
The Capitals "won" the bidding war for Darcy Kuemper. And while Kuemper is fresh off winning a Stanley Cup, there's a reason why he was allowed to walk. The fact that he is 32 years old means that he could be the oldest goalie in the league by the time his five-year contract expires. 
Vancouver Canucks
They added Ilya Mikheyev, who is coming off a 21-goal season, to their forward corps. But unless they find a trade partner for J.T. Miller and some help on the backend, this is not looking like a playoff team.
Vegas Golden Knights
Trading Max Pacioretty to Carolina as part of a salary dump is not a sign that the once-promising expansion team is on the cusp of winning a Stanley Cup. Instead, it's looking more and more like Vegas is close to a rebuild.