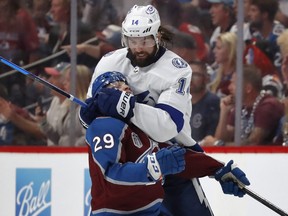 Article content
When it comes to advanced analytics, there really is no debate over who the MVP has been in this Stanley Cup final.
Article content
Forget about Cale Makar. Or Nikita Kucherov. Or even Valeri Nichushkin.
Nathan MacKinnon trumps them all.
The Colorado Avalanche centre ranks first in rush chances, cycle chances, forecheck chances and expected goals. Where he's been lacking lately, however, is in actual goals.
Heading into Game 6, MacKinnon had found the back of the net only once. And it came on a play in which he was facing the wrong way and the puck accidentally banked off the back of his skate.
In other words, you can throw out all the fancy stats that you want. But unless MacKinnon gets back to scoring at the level he had been in the first three rounds of the playoffs — when he had 11 goals in 14 games — the Avalanche is going to have a difficult time of finishing off the Tampa Bay Lightning, whom they lead 3-2 in the best-of-seven series.
Article content
That isn't meant to say that MacKinnon, who has four points in five games in this series, hasn't been effective. Aside from Makar, he's been Colorado's most impactful — if not important — player.
Heading into Game 6 on Sunday, MacKinnon had taken a whopping 28 shots on net. Based on his shooting percentage and where those shots have come from, that should amount to somewhere in the neighbourhood of 12 to 13 expected goals.
Article content
Of course, what's expected of him and what he's produced so far are two different things.
This is a time when the stars are expected to shine, when they are expected to fight through checks and lead — both on the ice and on the scoresheet.
That is what MacKinnon, who ranks second in goals in these playoffs, had been doing up until now.
Article content
The 26-year-old had five goals in a four-game sweep over Nashville in the first round. He scored a hat trick in a pivotal Game 5 against St. Louis that put Colorado ahead 3-2 in the second round. And then he went head-to-head with Edmonton's Connor McDavid by scoring three goals and five points in four games in the West final.
Prior to the final, MacKinnon was asked if he needed to win a Stanley Cup to cement his legacy as one of the best. He brushed off the question, saying that he wasn't worried about personal achievements. It was all about winning a Stanley Cup for the team.
The question is: Can the Avalanche can win a championship without MacKinnon doing what he does best?
"He knows that he has to drive the bus," Avalanche head coach Jared Bednar said the other day. "But he's willing to help in other ways and he's been really good helping in other ways and helping guys around him be better players.
Article content
"It doesn't have to be the perfect game every night. It doesn't have to be a three- or four-point night. I think he's taken on a huge checking role for us in some series so far and played against some tough competition. He's embraced it and he's come out on the good side of it. That's where I see the growth from Nate."
Then again, aside from Makar, who has three goals and seven points in the final, it's been a difficult series for most star players, as the depth players and unlikely heroes have taken over.
Kucherov has a goal and three assists. Steven Stamkos has only a goal and two assists. Mikko Rantanen is still searching for his first goal.
Meanwhile, Nichushkin has four goals and Tampa Bay's Ondrej Palat has three.
To his credit, it's not like MacKinnon has been invisible. Quite the opposite. He's been a force whenever he's been on the ice, as the advanced stats have shown. He is leading the rush and creating chances and preventing chances. What he hasn't been doing is getting rewarded for his efforts.
Article content
It doesn't help that he's spent the majority of the final being matched up against future Selke Trophy winner Anthony Cirelli, who has two goals and is a plus-1 in the final. Or, that others have taken turns trying to slow him down, with Mikhail Sergachev knocking him off the puck on a potential breakaway or Patrick Maroon slamming him to the ice in a WWE-style move that somehow didn't warrant a penalty.
It also doesn't help that MacKinnon's stick has gone cold at the worst possible moment. In Game 5, he beat Vasilevskiy with a breakaway deke, only to have the puck slide just wide of the net. He's also been a big reason why his linemates, Nichushkin and Gabriel Landeskog, who has three goals against Tampa Bay, have scored as much as they have.
Article content
"Obviously I want to score goals," said MacKinnon, who has been texting fellow Halifax native Sidney Crosby throughout these playoffs. "But I have to do my job out there. (I have to) play really good defence, create for my linemates, forecheck, every little thing. Stay aggressive and shoot the puck.
"I feel like they will go in. I just have to trust myself. That's all I can really do at this point. No time for doubt … have to find a few more lanes, but other than that, just stick with it."
He'd better break out soon. Because the longer MacKinnon goes without being MacKinnon, the wider the door opens on a potential Tampa Bay comeback.