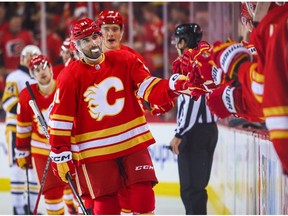 Article content
When it comes to changing cities, a fresh start can be almost as good as a fresh sheet of ice. 
Article content
That certainly seems to be the case for Nazem Kadri and Johnny Gaudreau, who are both flourishing with their new teams. Of course, not every change has been positive.
Article content
Nazem Kadri, Calgary
While Jonathan Huberdeau is still searching for his first goal — and some chemistry with his new linemates — Kadri has fit in just fine with four goals and nine points in nine games. It's not just the offence that he's bringing. As the replacement for Matthew Tkachuk, Kadri has also brought a much-needed edge to the Flames that has endeared him to head coach Darryl Sutter, as well as fans.
Article content
Johnny Gaudreau, Columbus
The decision to leave a pair of 40-goal scorers behind as his ex-linemates in Calgary had most of the hockey world shaking its collective head. But Gaudreau has proven that he doesn't need much help to produce. With five goals and eight points in eight games, he's on pace for 50 goals this year — and that's with Patrik Laine having missed time with a wrist injury. Just wait until Columbus finds a true No. 1 centre.
Article content
Jack Campbell, Edmonton
The former Leafs goalie, who signed a five-year, $25-million contract with Edmonton in the summer, hasn't exactly been the saviour in net that the Oilers had been hoping for. Campbell was pulled in his second start, has allowed three or more goals in five games this season and has a .895 save percentage. Maybe that is why backup Stuart Skinner got the start in a 3-1 win against the Blues on Wednesday.
Matthew Tkachuk, Florida
The Panthers, who parted ways with Jonathan Huberdeau and Mackenzie Weegar in order to acquire Tkachuk, paid a steep price for the winger. But with four goals and nine points in seven games — eight of which have come in even-strength situations — I don't think GM Bill Zito is regretting the deal one bit. Of course, the true test will come in the playoffs and whether Tkachuk can get Florida past Tampa Bay.
Article content
Ilya Samsonov, Toronto
With Matt Murray nursing a lower-body injury, Samsonov has seized an opportunity by going 4-1-0 with 2.01 goals-against average. The early-season success shouldn't be a surprise. The former first-round pick also went 9-1-0 in Washington last year. It was an inability to sustain that level of play that ultimately cost him his job — something to keep an eye on as the season goes on.
Brent Burns, Carolina
When the Hurricanes traded for the 37-year-old defenceman, they knew they weren't getting the same player who won the Norris Trophy in 2017. But after six games, Burns has been more than just a depth defenceman who can chip in on the power play. He currently leads all Carolina players with 23 minutes and 46 seconds of ice time. He's also leading the defence with four assists — three of which have come on the power play.
Article content
RECOMMENDED VIDEO
Dominik Kubalik, Detroit
Of all the changes that the Red Wings made this summer, chances are that the addition of Kubalik was not one that got fans excited. After all, this was a team that hired a new coach, added David Perron up front and Ville Husso in net. But with four goals and a team-leading 10 points in 10 games, Kubalik is turning out to be a steal — especially when you consider he's on a cap hit of $2.5-million.
Darcy Kuemper, Washington
Going from Colorado to Washington is turning out to be as big of a jump as going from Arizona to Colorado for Kuemper, who is 3-2-0 with a 3.04 goals-against average after five games. That's a bit off from the 2.54 goals-against average he had with the Avalanche last season. But a lot of that had to do with playing behind one of the deepest blue lines in the NHL.
Article content
Ondrej Palat, New Jersey
Often the forgotten forward in Tampa Bay, Palat signed with New Jersey in hopes of bringing a championship-winning culture to the rebuilding team. So far, he's held up his end of the bargain. While the Devils are 4-3-0, Palat is tied with a team-leading three goals in six games. And that's after missing the last game with an upper-body injury. 
Ryan McDonagh, Nashville
With a 2-4-1 record, it's safe to say that the Predators are not off to the start that they were hoping for. But that's more on Roman Josi than it is on McDonagh. A year ago, Josi led all defencemen with 96 points. After seven games, he has no goals and just one assist, as well as a minus-six rating. Luckily for the Predators, McDonagh has three assists and a plus-three rating, while forming quite the shutdown pair with Mattias Ekholm.
Article content
David Krejci, Boston
Technically, it's not a new team. But after leaving the NHL to return home and play in Czechia last year, Krejci is back with the Bruins — and reminding fans what they missed. They needed it. With Brad Marchand still recovering from off-season surgery, Krejci's eight points in seven games have helped Boston to an NHL-best 6-1-0 record.
Alexandar Georgiev, Colorado
The Avalanche took a bit of a gamble this summer by letting Darcy Kuemper walk away as a free agent weeks after he led the team to a championship. But anyone who watched the team knew goaltending wasn't the secret to their success. And yet, Georgiev's 4-0-1 record and .921 save percentage have been a big reason for Colorado's success so far.