"As a parent, I know what I expect from the school system. So I plan to do my best to contribute positively in that way."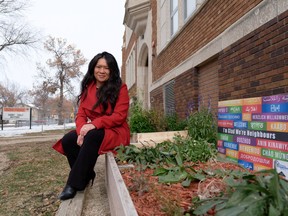 Article content
The results are in and with low single-digit voter turnout, a new Regina Public School board trustee has been elected.
Article content
Tracey McMurchy was officially elected as the trustee representing Subdivision 2 after a byelection Tuesday.
Article content
"It's been an exciting time, a really busy and exciting few months that led to last night," McMurchy said in an interview Wednesday.
Seeing the results come in was "a bit surreal" for McMurchy. She said, "all this hard work the past few months, it just flashed in front of me and it came to this and my heart started just pumping and beating fast."
Only four per cent of eligible voters cast a ballot Tuesday. Of the four per cent — 798 ballots cast from 19,942 registered eligible voters — the voting breakdown for candidates went as follows:
McMurchy received 258 votes, Mavis Olesen received 205, Greta Lange got 169, Matthew Thompson had 120 and 42 people cast a vote for Nasir Sohail.
Article content
Three ballots cast were blank, according to a summary of the results.
Regina school divisions divvying top-up funds, as enrolment rises

Regina school divisions following government's guidance as kids head back to class
"The voter turnout was a bit surprising for me," McMurchy said. "Surprising, disappointing."
Yard signs, door knocking and speaking with residents in Subdivision 2 did not motivate as many people to head to the polls on Oct. 25 as she'd hoped.
"I had door knocked for months," said McMurchy, adding that she tried her best to spread the word and get people out to vote. "We were hoping for more."
Mobile polls and advanced polls appeared to do little to boost voter turnout.
McMurchy said she wants to listen to residents of the subdivision she represents, "which is what I promised I would do when I went door knocking."
Article content
Making sure that children feel welcome and supported at school is priority number one for McMurchy, who said she went to seven different schools growing up and always felt she belonged.
"I know that that's what helped me growing up," she said. "That really helps a child's growth, development and just especially in building confidence."
Supporting teachers, and parents, learning around mental health, diversity and making sound financial decisions for the subdivision are also front and centre for McMurchy.
In preparation for the role, she said she is very proud of having over 20 years of experience as a public servant working as a chartered professional accountant, and as a teacher at the University of Regina.
Article content
But also, "I'm a mom. I'm a mom of two kids in the public system."
"As a parent, I know what I expect from the school system. So I plan to do my best to contribute positively in that way," McMurchy said.
Subdivision 2 covers the areas east of Albert Street and south of Victoria Avenue, across to the edge of Ring Road. Balfour Collegiate, Campbell Collegiate, Arcola Community School, Douglas Park School, Grant Road School, Ecole Massey School, Marion McVeety School and Thompson Community School are included within the boundary.
The byelection was triggered when the previous trustee, Elizabeth Strom, resigned from her position in June. McMurchy will be in the role for the remainder of the term, which expires in 2024, at which point voters head back to the polls.
— with files from Larissa Kurz