Average one-bedroom apartment rent up 20.4% to $2,481 from $2,061 in 2021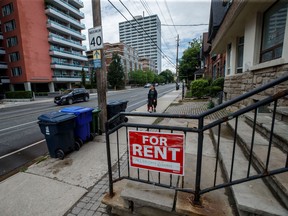 Article content
Rental prices in the Greater Toronto Area rose by double-digit levels on a year-over-year basis in the third quarter, as limited supply and steady demand contributed to tight market conditions.
Article content
According to the Toronto Regional Real Estate Board's third quarter rental report, the average one-bedroom apartment rent in the quarter was up 20.4 per cent to $2,481 from $2,061 in 2021. The average two-bedroom apartment rent was up 14.5 per cent to $3,184 from $2,780.
Article content
There were 13,366 condo apartment rental transactions reported through TRREB's MLS System in Q3 2022, representing a 17.3 per cent decline compared to Q3 2021. However, as was the case in the second quarter, the number of rental units listed was down by 25.6 per cent, meaning it became more difficult for renters to find a unit to meet their housing needs compared to a year ago.
"Competition for condo rentals has intensified as a result and negotiated rents have increased dramatically," the report noted.
Article content
TRREB attributed the tightness in the market to a number of factors, including pickups in immigration and non-permanent migration for school and work, and to higher borrowing costs, which have pushed would-be homebuyers into the rental market. The Bank of Canada raised interest rates by another 50 basis points Wednesday, the sixth consecutive increase by the central bank.
Average monthly rent in Canada tops $2,000 for first time in September

Surging rents have Canadian condo owners rethinking their plans to sell, report finds

Average monthly rents in GTA rise 21% in August over last year

Canada's homeownership rate is declining while renting is on the rise
TRREB's chief market analyst, Jason Mercer, said more rental supply was needed to balance the market.
"While investor-owned condo units have been an important source of supply, current tight market conditions and double-digit average rent growth point to the need for additional purpose-built stock, the construction of which has been lacking in recent years," Mercer said in the report.
• Email: [email protected]