One year into the licensing of short-term accommodations in Regina, the city says so far so good, but others argue more data is needed post-pandemic to truly measure success.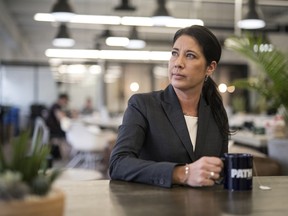 Article content
One year into the licensing of short-term accommodations in Regina, the city says so far so good, but others argue more data is needed post-pandemic to truly measure success.
Article content
"The regulations were implemented during the pandemic," Tracy Fahlman, president and CEO of the Regina Hotel Association (RHA), said in an interview Tuesday. "The activity of that sector over the past year just really didn't reflect a normal operating year."
As a stakeholder, the RHA has been at the table throughout the process of regulating short-term rentals like Airbnb and Vrbo (Vacation rentals by owner). Concerns from the association when the licensing program was developed led to a limit on secondary licenses to no more 35 per cent of the units within a multi-unit dwelling.
This was introduced to prevent apartment buildings from turning into hotels, according to an update on the program presented to executive committee last week. The report did not recommend any changes to the limit at this time, but noted RHA's continued concern in this area and gave options for council to consider if it wished to further address those concerns, including reducing that limit down to 25 per cent.
While the 35 per cent threshold has only been met once, and another application denied, Fahlman said an increase in that secondary licence category is expected.
"We would have appreciated that slight amendment to minimize the risk," Fahlman said. "It would have been a great step, a proactive and protective step."
But she said they are happy with the status quo for now and the promise of another update as administration continues to monitor the program over its second year.
Article content
The licensing bylaw came into effect in May 2021. According to administration's update, the program has been effective "in minimizing the number of units operating" as a short-term accommodation (STA).
As of Tuesday, there were 309 listings relating to 198 properties in Regina, according to Dawn Schikowski, manager of licensing and parking services for the city.
Airbnb and Vrbo are well-known industry names, but Schikowski says the city uses software to monitor 109 different platforms that offer the same service.
When asked if there's a chance that some hosts are operating outside of those platforms and without a licence, she said there is potential for that.
"We are fairly confident that our software is scrubbing the platforms that are definitely multi-jurisdictional," she said. "However, if there's any local platforms or possibly Regina Facebook groups where people are advertising, those are the locations that we haven't been able to confirm that there's any listings there."
The city has issued 168 STA licences as of May 31. Most of the licences were issued for principal residences and 69 were issued for secondary properties where the host does not reside at the residence, the report says.
Each secondary property must have a fire inspection done by Regina Fire & Protective Services (RFPS). RFPS completed 147 inspections and approved 70 properties. There are currently 26 pending re-inspections.
When the regulations came into effect, 179 "enforcement actions" were taken, resulting in the 65 voluntary removals of listings, 45 licences obtained, and 53 listings removed by the platform at the request of the city. Sixteen listings are "non-compliant" and still moving through the 45-day enforcement process. No fines, which can reach a maximum of $10,000 for an individual and $25,000 for a business, have been issued so far. The city is monitoring listings that have been removed for non-compliance and if the property is re-listed, that's when a fine would be issued, Schikowski said.
Article content
As of May, the city had received 37 service requests related to STAs. Most were questions about the bylaw and application process, two were noise complaints and three involved parking.
"We are impressed with how the program's gone. Overall, it's met our objectives, licensing uptake's been positive, property inspections are being conducted, the barriers to obtain a licence we've minimized, kept our compliance costs low and nuisance complaints have been relatively low," Schikowski said. "We expect that to continue."
The news seems to be flying at us faster all the time. From COVID-19 updates to politics and crime and everything in between, it can be hard to keep up. With that in mind, the Regina Leader-Post has created an Afternoon Headlines newsletter that can be delivered daily to your inbox to help make sure you are up to date with the most vital news of the day. Click here to subscribe.