As the National Assembly prepares to break for the summer, many Quebecers are left wondering who and what they voted for.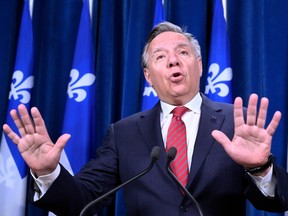 Article content
There's an old saying in politics that opposition parties don't defeat governments; it's governments that defeat themselves. Premier François Legault's start to his second term has been a case study.
Article content
In early October, Legault romped to a convincing majority victory fuelled by a near-perfect vote split among the opposition parties. You don't need much more than 40 per cent when your four rivals get about 15 per cent apiece.
Article content
Outside of war time, the pandemic was no doubt the biggest overall administrative challenge that any government has been required to face. As in war time, rallying around the flag (and your leaders) seemed to replace the usual sparring with political opponents.
It no doubt helped that because of the unprecedented health crisis, the National Assembly sat irregularly and Legault had exceptional powers, essentially ruling by decree. He seemed to get used to it and indeed, enjoy it, because his notorious thin skin started to show the minute he had to face tough questions about his performance.
Article content
Many journalists seemed content to play along with the government's daily announcements during the pandemic. When the Gazette's Aaron Derfel did masterful work covering the abject horror at the Résidence Herron, Legault called him out personally. Not the mark of a democrat, to be sure.
Since the start of Legault's second mandate, the wheels of his government's machinery have begun to rattle ominously as broken promises and abrupt U-turns have left many wondering who and what they voted for. Oh, and that thin skin has been in full view.
During the campaign, Legault convinced many voters that 60,000 immigrants a year proposed by other parties would be "suicidal" for Quebec. His excellent immigration minister, Christine Fréchette, just announced she's now working toward precisely that target — and Legault attended her press conference!
Article content
A rock hard promise to construct a "third link" for vehicle traffic between the shores of the Saint Lawrence at Quebec City was brazenly dumped. Legault refused to apologize.
His new proposal for a tramway tunnel was as unplanned as it was useless. Local MNAs and ministers couldn't show their faces in public. His iron grip allowed Legault to maintain discipline among his shaken troops, but it was the fiercest opposition he'd ever seen in what has been his most loyal region. The CAQ soon dropped to second place behind the Parti Québécois in the Quebec City area, an incredible turnaround in just a few months.
The catastrophic failure of a new computer system at the automobile insurance board, the SAAQ, still has Quebecers fuming. Legault found a scapegoat and promptly fired the highly respected president of that agency. It was another example where the bedrock principle of our Parliamentary democracy — ministerial responsibility — has gone by the wayside. Neither the Transport minister nor the  minister responsible for cybersecurity and digital transformation have paid any price.
Article content
Legault's slow transition to the post-pandemic reality of daily life in politics has also brought out a sombre side of his character. In the Salon Bleu, he fired off a broadside at the leader PQ Leader Paul St-Pierre Plamondon. PSPP, as he's known, has managed by his own high-road style to impose a new and far more respectful tone in the National Assembly. Legault assailed the legitimacy of PSPP's very election, which he said was thanks to a candidate for another party getting caught on camera swiping a campaign brochure. It was cheap and undignified of a premier.
Legault similarly heckled Québec solidaire's Gabriel Nadeau-Dubois, very personally, as he walked past him on the floor of the assembly, a fundamental breach of decorum.
It'll be interesting to see how he and his party perform as many voters are becoming as tired of the CAQ's broken promises as they are of Legault's arrogance.
Tom Mulcair, a former leader of the federal NDP, served as minister of the environment in the Quebec Liberal government of Jean Charest. 
Tom Mulcair: Crumbling bridges and broken promises in Quebec City

Tom Mulcair: Church, state and pandering to prejudices

Robert Libman: Echoes of Big Brother at home and at work

Robert Libman: Is cockiness catching up to the CAQ?