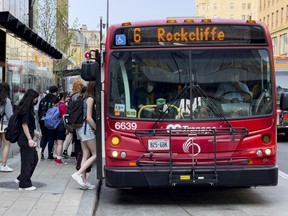 Article content
Accessibility training would help
Article content
Accessible public transit is essential for people with disabilities to fully participate in their community. OC Transpo has some great accessibility features, such as the interior and exterior announcements in both official languages and the tactile wayfinding in light rail transit (LRT) stations. It also has some accessibility issues.
Bus drivers have a bad habit of not stopping at the flag at bus stops, especially at busy transit hubs. As someone with low vision, I cannot look down the platform to see if my bus has pulled up, nor flag the right bus down. Bus drivers will also pull away before everyone has found a seat; I don't have any mobility issues and I've almost ended up in someone's lap before. I have even heard of some bus drivers making a fuss over guide dogs.
Article content
However, these accessibility issues actually have a straightforward solution: updated accessibility training for OC Transpo staff. More importantly, there needs to be quality assurance to make sure drivers are following the training they receive. This alone would go a long way in making OC Transpo more accessible and inclusive for all passengers.
Kate Riccomini, Program Lead for Advocacy and Community Engagement, CNIB ON East
Ottawa
Fighting for freedom we already have
COVID-19 is still around, the economy sucks and the immediate future of the world looks bleak. As if that is not scary enough the "Freedom Fighter groups" and their leaders continue denouncing our government and misleadingly claiming loss of freedom. We are not heading to dictatorship or losing our freedom as they are recklessly rousing people to believe. In fact, they are the ones threatening our democracy and rule of law. The anarchic methods used to have their impossible demands met, only succeed in unforgivably inciting and dividing people and causing turmoil. It does not change what has to be done.
Article content
Enough is enough! What grandstanding hoopla and lawlessness do they have in store? Are Canada Day celebrations in jeopardy? Something needs to be done to stop them from fueling discontentment and disharmony at a time when we need level-headedness.
Denise Poson
Metcalfe
Domestic abuse laws must change
The current inquest in Pembroke resulting from the murders of three women brings up a lot of issues and it is unlikely any 25-day course for a violent partner will do anything to solve a situation that has existed in that area for years.
I was a victim of that abuse and a murder attempt and police at that time just turned a blind eye.
This kind of violence was a three-generation phenomenon in that family and the only way to deal with it is to not allow it to get started when these men are very young. Some of them see it and think that a man has to be cruel and macho to make a statement.
Violence plus the abuse of alcohol is rampant in Renfrew County. I saw it and lived with it until I was able to flee the situation and raised a son who is every inch a gentleman, non-violent and kind.
The laws around this kind of violent behaviour have to change. I feel huge sadness for the families of these three women and my hope is that they find some peace not closure because there is no closure in any way shape or form where there is loss of life. Why is it taking so long for these laws to change?
Elizabeth Slump
Ottawa