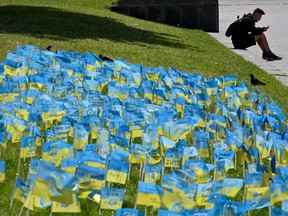 Article content
Focus on Ukraine's people, not borders
Article content
Re: "War could last years: NATO," June 20
Jens Stoltenberg and other NATO leaders are now predicting that the war in Ukraine could last for years and warning against NATO countries getting "Ukraine Fatigue." They are warning that NATO countries must keep supporting Ukraine by supplying more arms. Tellingly, they say nothing about the people of Ukraine; they are the ones that are really suffering. Reports say that hundreds die every day and hundreds more are wounded. Millions of valuable citizens have left Ukraine and millions more have left their homes for temporary housing elsewhere in the country. Infrastructure built over many years is being destroyed. The word "fatigue" would trivialize what is happening to them. If the war continues for years, as Stoltenberg expects, Ukraine will be a hollow shell where most people and buildings have been ruined. There will be no winners.
Article content
When President Zelenskyy says, "We will not give the south to anyone, and all that is ours we will take back," he is focussing on land and forgetting about the people he swore to protect. What should matter is not arbitrary borders, borders that were drawn hastily when all the disputed areas were part of one country, but people. Referenda, not missiles, should be used to draw borders.
The only way to really support Ukrainians is to help them to find a way out of this horribly destructive war. What we are doing now is exploiting them, not helping them.
Dave Parnas, Ottawa
Health care situation is scary
Re: "Staff shortages resulting in fewer surgeries, longer waits in Ottawa's emergency departments," June 20
The exodus of healthcare workers from the system is already scary and worsening. Wait lists for major surgery and consultations are years long for members of my family and friends. Members of our family have been waiting for a neurological consult for 18 months and a colonoscopy for over a year; another has been on a waitlist for a hysterectomy for over two years. For many suffering from lower-profile diseases like endometriosis, wait lists are even more excruciating.
Article content
Many friends have lost family doctors who retired during the last two years and the hunt to find a new one is beyond frustrating. When coupled with excruciatingly long wait lists for diagnostic procedures and treatment, people/patients end up getting into the system with more advanced diseases and conditions — with more adverse outcomes for them, their families and more aggressive treatments that are too often coupled with higher costs for the patient and system.
Linda Murphy, Ottawa
Thanks for a summer of hope
This past week, I sat in a movie theatre for the first time in over two years. I also went to an annual reception that hadn't been held since 2019. Best of all, I spoke every morning to my 95-year-old mother in New Brunswick, who is recovering quite nicely from COVID-19. And what didn't happen this past week? I didn't get COVID myself. Miraculous and mundane at the same time, these four things. All enabled by vaccines, masks and a pinch of luck. My gratitude goes to those who have given us a summer of hope.
Anna Blauveldt, Ottawa