Saturday, Sept. 30: 'Surplus' Para Transpo buses are being used for able-bodied riders while those in need wait, says one reader. You can write to us too, at [email protected]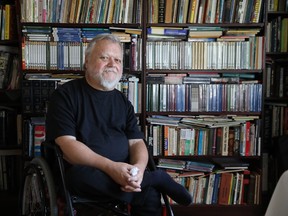 Article content
The city does not care about proper Para Transpo
Re: Para Transpo riders frustrated by what's offered to them compared to new on-demand bus service, Sept. 14.
Article content
Frustration over Para Transpo among the disabled community is not new. The City of Ottawa claims to be progressive and inclusive, yet all we get are roadblocks to that inclusiveness.
When I first required Para back in the mid 1990s, it was dependable. I never had a problem getting to and from work on time. But as time moved on, that on-time service began to decline. The number of Para buses has not kept up with demand, nor with changing demographics. As the population ages, the need for transportation for the disabled increases.
Article content
The disabled do have the right to have lives. They want to work, go to school, go out for the evening etc. They want the right to live as able-bodied persons do. However, when the disabled need to book rides to and from a destination, knowing they face a minimum of an extra 45 minutes of waiting each way, outings are reduced.
If Para is so over-booked and has insufficient buses to meet demand for the disabled now, how can it provide Para buses on demand for the non-disabled?
Para delays are built into the system to save money. Doing so just shows the city does not care about providing quality service for the disabled. The city has done the same with on-demand wheelchair-accessible taxis. Wheelchair-accessible taxi service is not much different than that of Para for the disabled. The main excuse is always the same: cost. I don't see cost mentioned in the Charter of Rights and Freedoms.
Bob Crout, Ottawa
OC Transpo shortfall can be fixed
Re: Given OC Transpo's dire financial numbers, simply maintaining mediocre service will be challenging, Sept. 26.
Randall Denley is quite wrong: there is an easy fix to OC Transpo's financial fiasco. It's called a congestion charge.
Article content
Charge drivers (say) $15 to drive into downtown between 7 a.m. and 6 p.m.  Alternatively, charge them based on distance driven within the zone.
It's inexpensive to implement and inexpensive to administer. It's also equitable: it only charges the users, not the public at large.
London, Singapore and Stockholm have congestion charges. They work.  They encourage the use of public transit, carpooling and cycling, meaning reduced pollution and fewer greenhouse gas emissions. Those who continue to drive help fund OC Transpo — reducing the pressure on property taxes — and enjoy faster commute times.
Mike van de Water, Ottawa
Climate change is a crisis too
I do not dispute the financial woes of our public transportation service, which was designed to move thousands of federal civil service from suburbs to the city centre. These plans were made years ago, when it appeared buses alone could not move the large number of commuters.
COVID completely up-ended the plans. Work-from-home has changed passenger volume. Problems have driven people back to their cars.
Meanwhile global warming proceeds to push us past the 1.5-degree warming of habitable life on Earth. Yet LRT routing was politically driven and not serving citizens as intended. The fact is that we must all (globally) reduce individual uses of cars and trucks, and vastly increase our use of mass transit. Connecting cities and towns with trains and coach buses must become the norm, rather than expanding highways.
Article content
Climate heating is a crisis that must be addressed quickly with political determination.
Carolyn Herbert, Nepean
School buses shouldn't be free
Re: The ABCs of school bus transportation in the Ottawa region, Sept. 25.
Nothing in this world is free and school transportation shouldn't be either.
Since the bus-driver shortage is mainly due to low wages for the drivers, asking parents to pay a minimal amount (say, $1 a day) to have their child picked up and dropped off safely would be enough to raise the pay of a school bus driver substantially.
Many children walk to school and many others are driven to school by their parents, who do not receive any compensation for the time and expense to do so. Therefore, asking the parents who use the school bus to pay a small amount for this privilege is not unreasonable.
Les Shinder, Nepean
More stats needed on immigration
Re: Immigration drives largest population boom in Canada since 1957: StatCan, Sept. 27. 
This article states that Canada's population increased by 1.1 million in the past year and details various interesting statistics. Missing, however, is information regarding the number of adults this includes and how many of them are now employed in Canada.
Article content
The article points out the housing and health-care shortages, but nowhere does it mention the subject of employment other than "skilled newcomers can help fill job shortages …" Where is the actual statistical information regarding how many of the eligible 1.1 million are working and contributing to housing and health-care issues?
Pat Tierney, Cardinal
Nazi statues must come down
Re: Canada needs to denounce Ukrainian Nazi unit, not honour it, says uOttawa professor, Sept. 25.
It is interesting that several statues of Canada's first prime minister, John A. MacDonald, have been torn down for his ties to residential schools; yet two monuments honouring the 14th Waffen SS Division, a Nazi German division that had a role in killing civilians and was involved in massacres during the Second World War, remain standing in Oakville and Edmonton.
Perhaps the recent fiasco in the House of Commons wherein a veteran of the 14th Waffen SS Galicia Division was honoured will now prompt the permanent removal of these shrines to those who fought for the Nazis.
Ed Storey, Nepean
Article content
History is not black and white
Not to minimize the complete condemnation of all Nazis and what they did during the Second World War, but history is more complex than good versus bad. When Nazi Germany invaded Russia in the summer of 1941, many Ukrainians initially treated the Germans as liberators due to the atrocities committed on Ukrainians by Josef Stalin over many years. The only reason Russia was our ally during the war was because of the principle that my enemy's enemy is my friend.
Inviting a former SS soldier into the House of Commons was wrong.  Joining an SS unit during the Second World War was wrong. However, if you were a Ukrainian in 1941 and someone offered you the chance to join the fight against the Russians that had been murdering your fellow citizens for decades, wouldn't you at least consider it?
Keith Dawson, Ottawa
Who checked Hunka's credentials?
Referring to the letter to the editor about who was responsible for Yaroslav Hunka appearing in the House of Commons: who carried the responsibility of checking Hunka's credentials? That person is to blame.
Article content
Everyone has a job to do and you have to trust that it is done correctly, especially in a case like this. A young employee may not have thought it necessary to dig deeper. This incident brings sad memories to many people, me included.
Anne Marie Knox
Media should spell out the facts
I so wish the media would report some of the facts around the Hunka issue:
• The House of Commons and the executive branch of government constitute two arms of our parliamentary system;
• They are therefore independent of each other;
• The executive does not have the right to ask or to interfere, let alone to vet any House of Commons invitee;
• Once elected, the speaker, elected by all House members, leaves his/her partisanship at the door, and therefore should not repeatedly be identified by Pierre Poilievre as a Liberal.
In this particular case, the government was not notified of the invitation made by the House, as the speaker has the right and power to issue the invitation. Anthony Rota took full responsibility for the occurrence, and declared that the government had not been informed.
Given these facts, it is clear that the Opposition leader, and his party, in blaming the Trudeau government for this very unfortunate incident, is repeatedly spreading misinformation. It should also be noted that, as a parliamentarian, Poilievre has not apologized to the Ukrainians or the Jewish community. A Trumpian approach to the truth should not become common practice in Canada, and the media has an important role to play in emphasizing this.
Article content
MariaRita Sarot, Ottawa
Shame on us educators too
Along with former speaker Anthony Rota, the prime minister and all MPs, I must hang my head in shame. For 30 years, I taught superficial history in our schools. For some reason when I was learning about the Second World War, I did not learn or read about a Ukrainian unit that fought on the Nazi side.
Shame on me and on the textbook writers and curriculum developers who failed to provide this essential information. I apologize.
Harvey Davey, Ottawa
Hot pepper contests can be unhealthy
Re: 'Molten Moose' heats it up, Sept. 23.
I was shocked that the Citizen devoted an entire page to an Ontario man who is slamming the competitive eating world by devouring more hot peppers than any other comers in contests. The Citizen seems oblivious to the harm such contests and challenges can do to unpractised and unwitting players.
I've been following such hot pepper challenges on my daily food issues blog at maggiejs.ca since they first hit the international newswires more than a decade ago. The vast majority of stories I've encountered make a point of warning average folks not to go lightly into the endeavour.
Article content
There have been many reports of ordinary people who take part in these contests being hospitalized. Some have taken days to recover fully after leaving hospital. Yes, contestants have to sign a waiver to take part. No, the organizers rarely explain the damage volcanically hot chili peppers can do to the human body.
Recently, some major news organs and social media have been airing calls for the banning of hot pepper challenges. Will the Citizen cover this angle of hot pepper challenges, in the time-honoured tradition of balanced journalism?
Margaret James, Ottawa
No reason to ban those 'shrooms
Re: Shroom Boom: Ottawa's Strange State of Psilocybin, Sept. 16.
Thank you for publishing Andrew Duffy's exposé on psychedelic mushrooms and the legal opposition to them. There is no research data to support such opposition. The ban began 52 years ago with then-U.S. president Richard Nixon. This ban was copied in Canada and many other countries without justification.
On the contrary, now we have much literature and research data supporting their great usefulness in careful, controlled and spiritual settings, as they have been used for millennia in countries around the world. "Psychedelics are to the study of the mind what the microscope is to biology and the telescope is to astronomy," said Dr. Stanislav Grof, psychiatrist and pioneering psychedelic researcher.
Article content
My own small personal experience with a different psychedelic plant material from South America, ayahuasca, has been the most profound spiritual experience of my life … so far, at age 85.
Katherine Kimbell, Ottawa
Bravo for Leeder's return
Congratulations and thank you to Michael Andlauer for purchasing our Ottawa Senators. Thank you especially for returning Cyril Leeder to the Senators' organization, a team he was instrumental in bringing back to Ottawa. Leeder is a gentleman, and a selfless business and sports leader.
With Leeder's return, there is renewed hope that the Senators will bring us a Stanley Cup, and moreover you have taken a significant step towards a new arena too.
Don Pestaluky, Ottawa
Build homes, not NHL arenas
Re: A new home for the Ottawa Senators has to make financial sense for Michael Andlauer, Sept. 25.
Ottawa has a shortage of homes. And I have heard that there is a shortage of skilled construction workers. So how can Michael Andlauer  think that the construction of an arena anywhere in Ottawa is going to be good for the city when there is so much need for housing?
Article content
Shouldn't this be a priority?
Kathryn Harris, Gloucester
Good neighbour picks up others' garbage
A couple of weeks ago, I met a lovely woman on my morning walk. Every day before work, she goes out and picks up the garbage strewn about by other thoughtless individuals.
On my walks, I used to mumble and grumble to myself and wonder, "What the heck is the matter with people? Why can't they take their garbage home or to a garbage can and clean up after themselves?" The sidewalks and green spaces are littered with Tim Hortons cups, McDonald's wrappers, soft drink cans and cigarette packs.
This lady inspired me. Now, I also take a bag with me and pick up the messes left behind. Perhaps this note will inspire others who go out for a walk each day to also clean up after the messy.
Melody Andeel, Orléans
Related Stories
Today's letters: Tories shouldn't mislead on Nazi-linked Commons 'guest'

Today's letters: Ottawa protests — bigoted extremists set poor example for children