Wednesday, July 13: You can write to us too, at [email protected]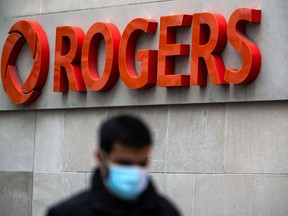 Article content
Rogers's lack of communication unacceptable
Article content
Re: Rogers outage cost small businesses thousands of dollars: CFIB, July 11.
As a Rogers subscriber, I, too, received an email on Saturday from CEO Tony Staffieri. On Friday, Innovation Minister François-Philippe Champagne said in a statement that Rogers had been asked "… to provide prompt and clear communication directly to those impacted." Despite this request, the email from Staffieri was anything but a clear communication and was instead an exercise in evasiveness, disingenuousness, mendacity and arrogance.
As of late Monday evening, the company's network and systems were not " … close to fully operational …" and many customers (myself included) continue to experience service disruptions. There were no further communications from Rogers explaining the ongoing disruptions. Staffieri and Rogers refused to provide any explanations during the worst of this disruptive outage on Friday, and it seems they are continuing to hide from the press and their customers.
Article content
Unacceptable. An immediate parliamentary inquiry/CRTC investigation is necessary to fully understand this specific event, including Rogers's seeming inability to manage its system maintenance updates (the cause of two widespread disruptions in 18 months) and to clearly define service levels required under the law.
Michèle Dumais, Ottawa​
Get more specific, Mr. Sutcliffe
Re: Sutcliffe: I'm running for mayor to make Ottawa a safe, affordable and reliable city for all, July 11.
Mark Sutcliffe's article does not tell me a lot about what he is "for" and what he is "against" — what he wants to change and what he wants to continue doing the way it is done now.
Mr. Sutcliffe, you say that you are worried about rising costs but then, almost in the same breath, you say you want to improve transportation, improve public safety, take care of the environment and green space. All those improvements cost money. You also want to bring more oversight to our light-rail project. You want to have collaborative leadership and bring people together.
Article content
I don't think there are any candidates for mayor who would say anything different. You will have to work harder at speaking your mind clearly for me to understand what kind of mayor you would be.
Patricia Shapiro, Greely
And what about our own prime minister?
Re: Boris Johnson resigns as UK Prime Minister, July 7.
While the parliaments of Canada and the United Kingdom operate in a similar manner, the recent resignation of Boris Johnson brings one particular difference into focus.
Johnson was forced to resign after severe pressure was exerted by members of his own party for what, by Canadian standards, could be considered trivial affairs: Christmas parties while the country was under lockdown, and support for a minister accused of sexual misconduct, as well as being somewhat less than honest in his explanations.
Article content
Here in Canada, we have a prime minister who has been censured several time by the ethics commissioner for much more serious misdeeds and has frequently been very economical with the truth. Despite having pressured his own justice minister in the SNC-Lavalin affair and more recently allegedly interfered with the RCMP after the Nova Scotia massacre; and despite his government's multi-million-dollar dealings with a certain charity organization, the silence of his party members about his conduct has been deafening.
Do Liberal MPs generally agree with the prime minister's transgressions, or are they just in fear of speaking out?
Charles Morton, Manotick