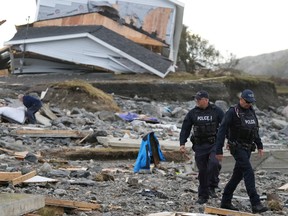 Article content
Fiona's devastation a sign of the future
Article content
Scientists have been hammering the world for decades with their message that rising sea levels and the warming of Earth's climate will likely increase the risks of living in seaside communities.
Article content
It registered that islands such as the tiny Republic of Kiribati in the mid-Pacific could disappear as sea waters rise and warm. But as sea surges increase in frequency and strength and the fury of hurricanes or typhoons doubles, it is disconcerting to witness the devastation that has now touched some of Canada's sea level communities.
Our hearts and money need to go out to the population of Port aux Basques and the rest of our Maritimes and Quebec victims of Fiona, as well as to our fisher and lobster harvesting workforce.
Article content
SuzAnne Doré, Ottawa
It would be best if TUPOC just faded away
Re: TUPOC is out, but the future of St. Brigid's remains uncertain, Sept. 25.
I, for one, am sad to see The United People of Canada forced to leave like this. Don't get me wrong. I'm not a supporter at all. For them, this will be a battle they have lost, but the war will continue.
I would have much rather have seen them stay, go bankrupt, and gradually fade away from lost support. That would be a better end for them.
Pete Hickey, Hull,
St. Brigid's is not really saved
There's nothing uncertain about the future of St. Brigid's. It will be bought up by some rich "developer," torn down and replaced with a condo tower, opposition be damned. That's what we do here.
Jack Pyl, Ottawa
Article content
Canada is no human rights model for the Commonwealth
Re: As we debate the monarchy's role, let's strengthen the Commonwealth, Sept. 26.
The Queen presided over was the unwinding of British imperial dispossession and subjugation of hundreds of millions around the world, which often involved bloody conflicts.
For Canada to take a legitimate role in a reconstituted Commonwealth, it too needs to unwind its dispossession and subjugation of Indigenous peoples. While Canada can take some credit for the end of the apartheid regime, it was built on a regime that Canada still uses.
Canada attempting to assume leadership on the basis of rule of law and democratic institutions would be an embarrassing hypocrisy if it continued to circumvent Supreme Court rulings about Indigenous land and resource rights and continued to control Indigenous governance through the Indian Act.
Article content
Writers Kevin Lynch and Paul Deegan are right: "Transitions are seldom easy, pivotal ones even less so." But too many people in the Commonwealth know Canada's regime and know first-hand the depth of poverty and pain such a regime inflicts. Without change, Canada's hypocrisy as a pretender to virtuous Commonwealth leadership will be seen for what it is.
Russell Banta, former chief federal land claim negotiator Ottawa
How about creating a 'Regent of Canada'?
Re: How to create a Canadian head of state, Sept. 23.
The terms "viceroy," "governor general," "governor" and "lieutenant-governor" are all remnants of a colonial/imperial system of governance. It is impossible to expect that a governor general, with all the representational baggage that the term entails, will be recognized internationally as a stand-alone head of state.
Article content
If we agree that Canada must remain a constitutional parliamentary system where Crown and Parliament legislate and buttress the executive power of a government under a prime minister, with a party system following the deep tradition of Loyal Opposition, we must find an alternative.
A solution yet unpresented but with very deep merit is for Canada to have a "Regent of Canada," uniting the positions of Queen of Canada and Governor General of Canada.
A regent is a monarch on his own right, appointed by the government to fill a void in a dynastic cycle. A regent does not hold the Crown on the head, but in his/her/their hands, representing the full presence of the Crown in our hierarchy of power.
A regent should be nominated for a set term, in a manner that would not convey a political representation, perhaps by three equal voices of the Senate, the Commons and the Supreme Court.
As strange as the term may sound to our ears at this moment, the Regency of Canada would convey full status as head of state, but also constitutional distance from day-to-day politics.
This would not prevent Canada from staying in the Commonwealth or keeping its "royal" institutions, as a Regent of Canada would still be part of theoretical royal system without dynastic succession.
Let's not do this important turn of history with half-measures. A Regent of Canada will make us proud of having rounded the square in a manner that nobody else was yet able to do.
Jean Morin, Ottawa