During Monday's 24-18 win in Montreal, the Redblacks lineup was decimated with injuries, but the team pushed ahead. And now, a look at Wednesday's injury report shows exactly how much damage was done.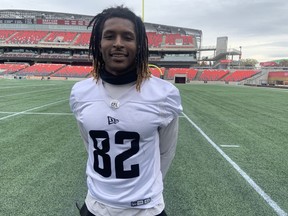 Article content
While the Ottawa Redblacks won't be anywhere near full strength Friday night against the Montreal Alouettes, it'll be business as usual.
Article content
During Monday's 24-18 win in Montreal, the Redblacks lineup was decimated with injuries, but the team pushed ahead. And now, a look at Wednesday's injury report shows exactly how much damage was done. Several key players won't play Friday in the return match.
Article content
Returner/ receiver DeVonte Dedmon (quadriceps) was on crutches during Wednesday's practice. Out. Maybe for a few weeks.
Article content
Receiver Jaelon Acklin (head/shoulder). Out.
Running back William Powell (shoulder). Out.
Linebacker/defensive back Patrick Levels (ankle). Out.
Defensive lineman Praise Martin-Oguike (ankle). Out.
Offensive lineman Dino Boyd (shoulder). Out.
Having that many players go down in one game presented its challenges. With both Dedmon and Acklin out, injured receiver Nate Behar was on the sideline helping tight end Marco Dubois understand the assignments when he had to step in at one of the receiver spots.
Article content
"It's a credit to the coaches and to the players who were able to step up and replace the guys who went down," said Redblacks head coach Bob Dyce Wednesday. "If you were on our sidelines and you saw the juggling offensively they had to do personnel wise for a young staff that's really kind of gotten together, it was certainly shocking. They did a great job of overcoming the challenge."
Adversity for a team that's won four times this season and needs to win at least two of its final three regular-season games to have a shot at a playoff position? Yep. And just like they found a way to will their way to a win in Montreal, the Redblacks are going to need to dig down. Again.
One of the newcomers to the lineup will be receiver Siaosi Mariner, who will make his CFL debut Friday in his first season as a Redblack. The 25-year-old played his senior college football season at Utah State, where he was a favourite receiver for NFL first-round draft pick Jordan Love (Green Bay Packers), scoring 10 touchdowns.
Article content
"Everyone says, it's next man up — I know it's a cliche," said Dyce. "Guys are looking for new opportunities. Siaosi is one of them. He's done a great job all year. I see him on scout teams playing special teams, I see him making plays offensively … and he gives it 100 per cent. Now he gets a chance to step up and show what he can do in a game. it's good to see the young guys get some action when they've worked as hard as they have all year."
"It's a blessing for me to be able to get out there," said Mariner. "But that's not what's in my head. It's all about helping my team try to get into a playoff position. That's my goal, I'm keeping my goals team oriented.
"From a competitive standpoint, it's tough waiting. But it gets you ready for what's ahead, it prepares you for adversity. You keep fighting and it gets you ready for the opportunity. Unfortunately, this comes with an injury. But I'll go out and play hard for Ack, I'm sure he'd appreciate that."
Article content
Signed as a free agent by the Redblacks early this year, Mariner has patiently awaited his turn.
"I came to Canada to play; I wanted to push whoever it was (for a starting position)," he said. "I kept working and pushing until an opportunity came. I knew that opportunity would come, whether it was this year or next year."
Asked what his strengths as a pass catcher are, he said: "Getting open. I'm learning to create more space in my routes. Creating space and scoring touchdowns, putting the ball into the end zone – that's what I do best. I can't wait to get out in front of the Ottawa fans and get a home win."
In the background of the script for Friday's game is the fact the Redblacks have lost 21 of their past 22 games at TD Place.  A Montreal win Friday would clinch a playoff spot and home game for the Alouettes, who have a 7-8 record. The Redblacks want to be spoilers. It won't be easy for either team, playing games not separated by much time off.
Article content
"It's certainly a challenge," said Dyce. "(The Alouettes) are in the same boat as us. You worry about the guys' physical state because football isn't a game you normally play (two games) in such close proximity. You have to be mentally and physically strong. (Wednesday's) practice was a bit lighter, the pace was a bit different."
THE OTTAWA FREDBLACKS? Maybe it's not time to rename the Redblacks, but agent Fred Weinrauch represents 17 players on the team: FB Anthony Gosselin, RB Brendan Gillanders, LB Dan Basambombo, OL Zach Pelehos, QB Jeremiah Masoli, OL Cyrille Hogan-Saindon, DB Justin Howell, DE Kene Onyeka , DE Kwaku Boateng, K Lewis Ward, WR Marco Dubois, WR Keaton Bruggeling, DL Nigel Romick, DL Tre Hornbuckle, DB Ty Cranston, WR Quan Bray and DL Alain Cimankinda, who has been signed and added to Ottawa's practice roster. The Congo-born Gatineau resident was drafted in the fourth round of the 2021 CFL Draft by the Saskatchewan Roughriders and spent the 2021 season with the team. Released prior to this season, Cimankinda re-signed with the Riders in time to play in their Week 7 matchup against Toronto.
THE END AROUND: The Redblacks no longer occupy the final spot in the CFL Power Rankings. They've moved up to eighth, with the Edmonton Elks now in the nine spot. The first-place East Division team, Toronto, is at No. 3. Montreal is at 5 … Alouettes centre Sean Jamieson and receiver Reggie White Jr., both injured in the game vs. Ottawa, are both out for the season with knee injuries.
THE 'P' WORD? Baby steps as Ottawa Redblacks hope to hunt down post-season spot

COACHING CHANGES FOR REDBLACKS: Malone unretires, Arndt takes step ahead with playcalling