'We want to make it clear that the OSS Group has the sole responsibility with respect to the refund process,' says a statement from ATPI.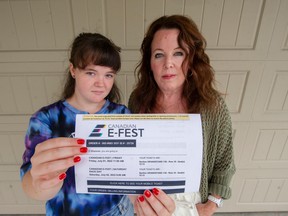 Article content
A ticket company that acted as the provider for the Vancouver Formula E race that was cancelled on Canada Day has launched a suit against the race organizers.
Article content
More than 30,000 tickets were sold for the race, but buyers are still waiting for a refund. OSS Group, the organizers of the race, have not yet provided answers about when people will get their refunds.
Article content
In a news release Wednesday, ATPI said it has filed a lawsuit against the OSS Group after multiple attempts to reach the company for direction and instruction regarding the timing and details for the refund process of the cancelled race.
"We want to make it clear that the OSS Group has the sole responsibility with respect to the refund process," a statement from ATPI said.
"However, despite being clearly and contractually required to do so, the OSS Group has not returned the ticket sale proceeds for ATPI to process the ticket refunds."
Article content
A request for comment to the OSS Group has yet to be returned.
The lawsuit, which was provided to Postmedia by ATPI, was filed last week in Quebec Superior Court. The suit alleges that because OSS has refused to reimburse customers, many have been proceeding to chargebacks, which take funds out of ATPI's accounts. The company claims approximately $560,000 dollars has already been taken out.
ATPI is requesting OSS be ordered by the court to pay $2,789,539.00 to be used by ATPI to refund customers.
"We completely understand and share in the ticketholders' frustration with the lack of communication and delay from the OSS Group in receiving their ticket refund," said the ATPI statement.
"We will continue to do everything in our power to accelerate this process and ensure a resolution is met for ticket holders."
Article content
ATPI said there will be no further statements at this time, as the issue is now before the courts.
In April, OSS Group announced the event was "postponed" and tickets would transfer to next year's edition of the Vancouver race.
When Postmedia reported in June that Formula E, the international group that runs the annual electric car-racing circuit, had cut ties with OSS Group and had no Vancouver event in the 2023 calendar, OSS leadership said the refund process for 2022 ticket purchasers would begin after July 2, the original date of the planned race.
—with files from Dan Fumano